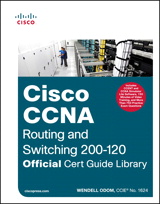 Description
The Publisher regrets that the CD/DVD content for this title cannot be made available Online.
Cisco Press has the only Self-Study Guides Approved by Cisco for the New CCENT & CCNA Routing and Switching Certifications. The New Edition of the Best-Selling two-book CCNA Official Cert Guide Library includes Updated Content, New Exercises, and 8 Practice Exams
CCNA 200-120 Official Cert Guide Library is a comprehensive review and package for the latest CCNA exams. The two books contained in this package, CCENT/CCNA ICND1 100-101 Official Cert Guide and CCNA ICND2 200-101 Official Cert Guide, present complete reviews and a more challenging and realistic preparation experience. The books have been fully updated to refresh the content for the latest CCNA exam topics and enhance certain key topics that are critical for exam success.
Best-selling author and expert instructor Wendell Odom shares preparation hints and test-taking tips, helping you identify areas of weakness and improve both your conceptual knowledge and hands-on skills.
This complete study package includes
A test-preparation routine proven to help you pass the exams
Do I Know This Already? quizzes, which enable you to decide how much time you need to spend on each section
Chapter-ending and part-ending exercises, which help you drill on key concepts you must know thoroughly
Troubleshooting sections, which help you master the complex scenarios you will face on the exam
Final preparation chapters, which guide you through tools and resources to help you craft your review and test-taking strategies
Study plan suggestions and templates to help you organize and optimize your study time
These official study guides help you master all the topics on the CCNA exams, including:
Networking fundamentals
Ethernet LANs and switches
IPv4 addressing and subnetting
Operating Cisco routers
Configuring OSPF
ACLs and NAT
IPv6 fundamentals, implementation, and troubleshooting
LAN switching
IPv4 routing
VPNs
OSPF and EIGRP configuration and troubleshooting
Wide area networks and Frame Relay
Network management
Well regarded for its level of detail, study plans, assessment features, challenging review questions and exercises, and hands-on labs, these official study guides help you master the concepts and techniques that ensure your exam success.
CCNA 200-120 Official Cert Guide Library is part of a recommended learning path from Cisco that includes simulation and hands-on training from authorized Cisco Learning Partners and self-study products from Cisco Press.
This volume is part of the Official Cert Guide series from Cisco Press. Books in this series provide officially developed exam preparation materials that offer assessment, review, and practice to help Cisco Career Certification candidates identify weaknesses, concentrate their study efforts, and enhance their confidence as exam day nears.
Table of Contents
Introduction xxxi
Getting Started 3
Part I: Networking Fundamentals 12
Chapter 1 The TCP/IP and OSI Networking Models 15
Chapter 2 Fundamentals of Ethernet LANs 43
Chapter 3 Fundamentals of WANs 67
Chapter 4 Fundamentals of IPv4 Addressing and Routing 89
Chapter 5 Fundamentals of TCP/IP Transport and Applications 117
Part II: Ethernet LANs and Switches 140
Chapter 6 Building Ethernet LANs with Switches 143
Chapter 7 Installing and Operating Cisco LAN Switches 169
Chapter 8 Configuring Ethernet Switching 199
Chapter 9 Implementing Ethernet Virtual LANs 235
Chapter 10 Troubleshooting Ethernet LANs 265
Part III: IP Version 4 Addressing and Subnetting 302
Chapter 11 Perspectives on IPv4 Subnetting 305
Chapter 12 Analyzing Classful IPv4 Networks 331
Chapter 13 Analyzing Subnet Masks 349
Chapter 14 Analyzing Existing Subnets 369
Part IV: Implementing IP Version 4 400
Chapter 15 Operating Cisco Routers 403
Chapter 16 Configuring IPv4 Addresses and Routes 425
Chapter 17 Learning IPv4 Routes with OSPFv2 459
Chapter 18 Configuring and Verifying Host Connectivity 493
Part V: Advanced IPv4 Addressing Concepts 530
Chapter 19 Subnet Design 533
Chapter 20 Variable-Length Subnet Masks 561
Part VI: IPv4 Services 596
Chapter 22 Basic IPv4 Access Control Lists 599
Chapter 23 Advanced IPv4 ACLs and Device Security 623
Chapter 24 Network Address Translation 653
Part VII: IP Version 6 684
Chapter 25 Fundamentals of IP Version 6 687
Chapter 26 IPv6 Addressing and Subnetting 709
Chapter 27 Implementing IPv6 Addressing on Routers 731
Chapter 28 Implementing IPv6 Addressing on Hosts 755
Chapter 29 Implementing IPv6 Routing 779
Part VIII: Final Review 812
Chapter 30 Final Review 815
Part IX: Appendixes 832
Appendix A Numeric Reference Tables 835
Appendix B ICND1 Exam Upd ates 841
Glossary 843
DVD-only Appendixes
Appendix C: Answers to the "Do I Know This Already?" Quizzes
Appendix D: Practice for Chapter 12: Analyzing Classful IPv4 Networks
Appendix E: Practice for Chapter 13: Analyzing Subnet Masks
Appendix F: Practice for Chapter 14: Analyzing Existing Subnets
Appendix G: Practice for Chapter 19: Subnet Design
Appendix H: Practice for Chapter 20: Variable-Length Subnet Masks
Appendix I: Practice for Chapter 21: Route Summarization
Appendix J: Practice for Chapter 22: Basic IPv4 Access Control Lists
Appendix K: Practice for Chapter 25: Fundamentals of IP Version 6
Appendix L: Practice for Chapter 27: Implementing IPv6 Addressing on Routers
Appendix M: Memory Tables
Appendix N: Memory Tables Answer Key
Appendix O: Mind Map Solutions
Appendix P: Study Planner
Introduction xxviii
Getting Started 3
Part I: LAN Switching 11
Chapter 1 Spanning Tree Protocol Concepts 13
Chapter 2 Spanning Tree Protocol Implementation 43
Chapter 3 Troubleshooting LAN Switching 77
Part II: IP Version 4 Routing 129
Chapter 4 Troubleshooting IPv4 Routing Part I 131
Chapter 5 Troubleshooting IPv4 Routing Part II 157
Chapter 6 Creating Redundant First-Hop Routers 183
Chapter 7 Virtual Private Networks 205
Part III: IP Version 4 Routing Protocols 229
Chapter 8 Implementing OSPF for IPv4 231
Chapter 9 Understanding EIGRP Concepts 267
Chapter 10 Implementing EIGRP for IPv4 291
Chapter 11 Troubleshooting IPv4 Routing Protocols 323
Part IV: Wide-Area Networks 357
Chapter 12 Implementing Point-to-Point WANs 359
Chapter 13 Understanding Frame Relay Concepts 389
Chapter 14 Implementing Frame Relay 409
Chapter 15 Identifying Other Types of WANs 445
Part V: IP Version 6 469
Chapter 16 Troubleshooting IPv6 Routing 471
Chapter 17 Implementing OSPF for IPv6 499
Chapter 18 Implementing EIGRP for IPv6 529
Part VI: Network Management 555
Chapter 19 Managing Network Devices 557
Chapter 20 Managing IOS Files 579
Chapter 21 Managing IOS Licensing 605
Part VII: Final Review 627
Chapter 22 Final Review 629
Part VIII: Appendixes 647
Appendix A Numeric Reference Tables 649
Appendix B ICND2 Exam Updates 657
Glossary 659
DVD-only Appendixes
Appendix C Answers to the "Do I Know This Already?" Quizzes
Appendix D Memory Tables
Appendix E Memory Tables Answer Key
Appendix F Mind Map Solutions
Appendix G Study Planner
Purchase Info
ISBN-10: 0-13-341089-7
ISBN-13: 978-0-13-341089-1
Format: Safari PTG
This title is out of stock.