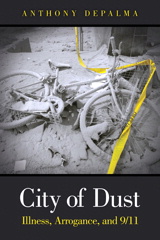 Description
In City of Dust, Anthony DePalma offers the first full accounting of one of the gravest environmental catastrophes in United States history. The destruction on 9/11 of two of the world's largest buildings unleashed a vortex of dust and ash that blotted out the sun and has distorted science, medicine and public policy ever since. The likely dangers of 9/11's massive dust cloud were evident from the beginning, yet thousands chose not to see. Why? As the sickening results of exposure became evident, many still refused to recognize them. Why? The consequences are still being tallied in the wasted bodies and disrupted lives of thousands who gave their all when the need was greatest, but whose demands for justice have been consumed by years of politics and courtroom maneuvers. Why?, separating reality from myth - and doing so with exceptional literary style and grace. DePalma covered Ground Zero for The New York Times for four years. DePalma introduces heroic firefighters, dedicated doctors and scientists, obsessive city officials, partisan politicians, aggressive lawyers, and compassionate judges and reveals the individual decisions that destroyed public trust, and the desperate attempts made to rebuild it. The dust that was the World Trade Center has changed everything it touched. This is the story of that dust, the 9/11 disaster after the disaster, and what it tells us about ourselves and our future.
Table of Contents
Acknowledgments x
About the Author xi
Part I: Catastrophe
Introduction 3
Chapter 1 All That We Hold Dear 9
Chapter 2 Optimism or Arrogance? 27
Chapter 3 Significant Chaos 43
Part II: Disease
Chapter 4 Raising Doubts 65
Chapter 5 A Gathering Storm 81
Chapter 6 Building a Science 99
Chapter 7 It's Not the Dying 117
Chapter 8 Life and Dust 145
Part III: Doubt
Chapter 9 Such Money Grubbers as These 171
Chapter 10 Degrees of Certitude 191
Chapter 11 Beyond Doubt 209
Chapter 12 Assaulting Uncertainty 239
Chapter 13 Science on Trial 261
Part IV: Reality
Chapter 14 Missed Opportunities 287
Chapter 15 Afterclap 299
Epilogue 317
Index 329
Purchase Info
ISBN-10: 0-13-212133-6
ISBN-13: 978-0-13-212133-0
Format: Safari PTG
This publication is not currently for sale.