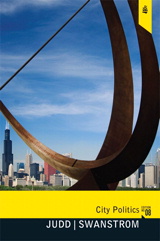 Description
Judd and Swanstrom argue that the politics of growth, the politics of governance, and enclave politics are the three imperatives that dissolve the past and present into a singular, continuous narrative.
Praised for the clarity of its writing, careful research, and distinctive theme - that urban politics in the United States has evolved as a dynamic interaction among governmental power, private actors, and a politics of identity - City Politics remains a classic study of urban politics.
Table of Contents
Chapter 1. The Evolution of City Politics in America: An Introduction
PART I. The Origins of American Urban Politics: The First Century
Chapter 2. The Legacy of America's Urban Past
Chapter 3. Party Machines and the Immigrants
Chapter 4. The Reform Crusades
Chapter 5. Urban Voters and the Rise of a National Democratic Majority
PART II. The Urban Crisis of the Twentieth Century
Chapter 6. The City-Suburb Divide
Chapter 7. National Policy and the City-Suburb Divide
Chapter 8. Federal Programs and the Divisive Politics of Race
Chapter 9. The Rise of the Sunbelt
PART III. The Fractured Metropolis
Chapter 10. The Rise of the Fragmented Metropolis
Chapter 11. Governing the Fragmented Metropolis
Chapter 12. The Metropolitan Chase
Chapter 13. The Renaissance of the Metropolitan Center
Chapter 14. Governing in the 21st-Century
Chapter 15. City and Metropolis in the Global Era
Purchase Info ?
With CourseSmart eTextbooks and eResources, you save up to 60% off the price of new print textbooks, and can switch between studying online or offline to suit your needs.
Once you have purchased your eTextbooks and added them to your CourseSmart bookshelf, you can access them anytime, anywhere.
Buy Access
City Politics, CourseSmart eTextbook, 8th Edition
Format: Safari Book
$45.99 | ISBN-13: 978-0-205-05565-4