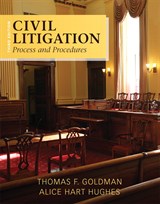 Description
Civil Litigation: Process and Procedures, Third Edition, is designed to help students build the skill sets needed to succeed as members of today's civil litigation teams. An Instructor's Manual, PowerPoint lecture slides, and test bank are available for use with this text.
Teaching and Learning Experience:
The text clearly presents legal concepts, emphasizing the details of the litigation process, critical thinking, and hands-on exercises that develop practical law office skills.

Supporting multimedia resources include 46 video case studies that illustrate each stage of the litigation process, showing the day-to-day activities of the litigation team preparing and trying a civil case in a real world setting.
Table of Contents
UNIT ONE: INTRODUCTION TO CIVIL LITIGATION
1. The Paralegal in Civil Litigation
1A. Building Your Professional Portfolio
2. Ethics and Professional Responsibility
3. Litigation Management and Technology
UNIT TWO: PLANNING THE LITIGATION
4. The Court System, Settlement, & Alternative Dispute Resolution
5. Causes of Actions and Litigation Strategies
6. Evidence
7. Interviews and Investigation in Civil Litigation
UNIT THREE: DOCUMENTS IN CIVIL LITIGATION
8. Pleadings: Complaint, Summons, and Service
9. Motions Practice
10. Pleadings: Responses to Complaint
UNIT FOUR: FORMAL DISCOVERY METHODS
11. Introduction to Discovery
12. Issues in Electronic Discovery
13. Interrogatories and Requests for Production
14. Depositions
15. Other Forms of Discovery
UNIT FIVE: TRIAL OF THE CASE
16. Trial Preparation–Post-discovery to Pretrial
17. Trial
18. The Electronic Courtroom and Trial Presentation
UNIT SIX: POSTTRIAL ISSUES
19. Post-trial Procedures
20. Enforcement of Judgments
These online resources are available at no cost.
Student Resources Website for Civil Litigation: Process and Procedures, 3rd Edition