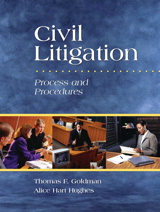 Description
For courses in Civil Litigation Processes and Procedures.
Focusing on the complete litigation process, this book gives students the entire picture of civil litigation from client interview to trial to collecting on a judgment. With a unique focus on technology, it devotes a separate chapter to electronic discovery, addresses changes in the Federal Rules of Civil Procedure, and includes educational demonstration software from leading vendors. Each chapter offers features that show how the civil litigation process works and ends with assignments that develop important critical thinking and procedural skills. A civil litigation video series is available on DVD and includes forty-four segments dealing with practice, procedures and ethical issues in the civil litigation field.
Table of Contents
Table of Contents
1. The Paralegal in Civil Litigation
2. Technology in Civil Litigation
3. The Court System
4. Client Interviews and Investigation in Civil Litigation
5. Organizing and Managing Civil Litigation
6. Electronic Research
7. Evidence
8. Settlement and Alternative Dispute Resolution
9. Pleadings: Complaint, Summons, and Service
10. Pleadings: Responses to Complaint
11. Introduction to Discovery
12. Issues in Electronic Discovery
13. Interrogatories and Request for Production
14. Depositions
15. Other Forms of Discovery
16. Trial Preparation—Post Discovery to Pretrial
17. Trial
18. The Electronic Courtroom and Trial Presentation
Purchase Info ?
With CourseSmart eTextbooks and eResources, you save up to 60% off the price of new print textbooks, and can switch between studying online or offline to suit your needs.
Once you have purchased your eTextbooks and added them to your CourseSmart bookshelf, you can access them anytime, anywhere.
Buy Access
Civil Litigation: Process and Procedures, CourseSmart eTextbook
Format: Safari Book
$79.99 | ISBN-13: 978-0-13-501747-0