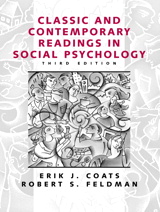 Table of Contents
I. INTRODUCTION TO A DISCIPLINE.
1. An Introduction to Social Psychology.
CLASSIC: N. Triplett, The Dynamogenic Factors in Pacemaking and Competition. CONTEMPORARY: E. Berscheid, A Glance Back at a Quarter Century of Social Psychology.
II. SOCIAL COGNITION: PERCEIVING THE SOCIAL WORLD.
2. Social Cognition: Perceiving and Understanding Individuals.
CLASSIC: E.E. Jones, How Do People Perceive the Causes of Behavior? CONTEMPORARY: T. Gilovich and K. Savitsky, Like Goes With Like: The Role of Representativeness in Erroneous and Pseudoscientific Beliefs.
3. Prejudice, Discrimination, and Stereotypes: Perceiving and Understanding Groups.
CLASSIC: M. Sherif, et al., The Robber's Cave Experiment: Intergroup Conflict and Cooperation. CONTEMPORARY: C.M. Steele, Thin Ice: "Stereotype Threat" and Black College Students.
III. THE SELF.
4. The Self: Perceiving and Understanding Ourselves.
CLASSIC: S. Schachter and J.E. Singer, Cognitive, Social, and Physiological Determinants of Emotional State. CONTEMPORARY: D.G. Myers and E. Diener, The Pursuit of Happiness.
5. Well-Being and Health: Caring for the Self.
CLASSIC: J.W. Pennebaker and S.K. Beall, Confronting a Traumatic Event: Toward an Understanding of Inhibition and Disease. CONTEMPORARY: S. Cohen, Psychological Stress, Immunity, and Upper Respiratory Infections.
IV. RELATIONSHIPS.
6. Interpersonal Attraction: Our Liking for Others.
CLASSIC: E. Berscheid and E. Hatfield, Physical Attractiveness. CONTEMPORARY: G. Cowley, The Biology of Beauty.
7. Close Relationships: The Nature of Intimate Relations.
CLASSIC: D.G. Dutton and A.P. Aron, Some Evidence for Heightened Sexual Attraction Under Conditions of High Anxiety. CONTEMPORARY: J. Gottman, What Makes Marriage Work?
V. HELPING AND HURTING OTHERS.
8. Prosocial Behavior.
CLASSIC: J.H. Bryan and M.A. Test, Models and Helping: Naturalistic Studies in Aiding Behavior. CONTEMPORARY: R.V. Levine, Cities with Heart.
9. Aggression.
CLASSIC: L. Berkowitz and A. LePage, Weapons as Aggression-Eliciting Stimuli. CONTEMPORARY: D. Olweus, Bullying or Peer Abuse at School: Facts and Intervention.
VI. FORMULATING PERSPECTIVES ON THE WORLD.
10. Attitudes: Appraising Our Social Worlds.
CLASSIC: L. Festinger and J.M. Carlsmith, Cognitive Consequences of Forced Compliance. CONTEMPORARY: E. Harmon-Jones, Is The Production of Aversive Consequences Necessary?
11. Persuasion: Changing Attitudes.
CLASSIC: R.E. Petty and J.T. Cacioppo, The Elaboration Likelihood Model of Persuasion. CONTEMPORARY: M. Helweg-Larsen and B.E. Collins, A Social Psychological Perspective on the Role of Knowledge About AIDS in AIDS Prevention.
VII. SOCIAL INFLUENCE.
12. Conformity, Compliance, and Obedience: Following the Lead of Others.
CLASSIC: S. Milgram, Behavioral Study of Obedience. CONTEMPORARY: R.B. Cialdini, Commitment and Consistency.
13. Law and Order: The Legal System.
CLASSIC: E.F. Loftus and J.C. Palmer, Reconstruction of Automobile Destruction: An Example of the Interaction Between Language and Memory. CONTEMPORARY: D.S Lindsay, Eyewitness Suggestibility.
VIII. THE SOCIAL CONTEXT OF SOCIETY.
14. Groups: Joining With Others.
CLASSIC: R.B. Zajonc, Social Facilitation. CONTEMPORARY: G. Moorhead, R. Rerence, and C.P. Neck, Group Decision Fiascoes Continue: Space Shuttle Challenger and a Revised Groupthink Framework.
15. Business, Organizations, and the Environment: Applying Social Psychology in a Complex World.
CLASSIC: E. Mayo, The Social Problems of an Industrial Civilization. CONTEMPORARY: S.T. Fiske and P. Glick, Ambivalence and Stereotypes Cause Sexual Harassment: A Theory with Implications for Organizational Change.