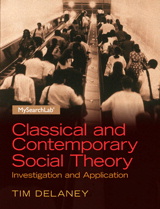 Description
Blends traditional and contemporary social theory.
The first edition of Classical and Contemporary Social Theory: Investigation and Application is the most comprehensive, informative classical and contemporary social theory book on the market. The author's entertaining writing style helps students understand the origins of social theory and the role of various social revolutions that shaped the course of societies around the world. This text also discusses the ideas and relevancy of concepts of both the major classical and contemporary schools of thought and applies their ideas to society. Classical and Contemporary Social Theory helps readers visualize the chain of knowledge that exists from one generation to the next.
This text is available in a variety of formats – print and digital. Check your favorite digital provider for your etext, including Coursesmart, Kindle, Nook, and more. To learn more about our programs, pricing options and customization, click the Choices tab.
Learning Goals
Upon completing this book, readers will be able to:
Understand the origins of social theory.
Apply the ideas of major classical and contemporary sociological thinkers to contemporary society.
Discuss the role of socio-historic events and their impact on sociological though.
Table of Contents
In this Section:
1. Brief Table of Contents
2. Full Table of Contents
---
Brief Table of Contents
Part I The Classical Period of Sociological Theory
Chapter 1: The Early Roots of Sociological Theory
Chapter 2: Karl Marx
Chapter 3: Emile Durkheim
Chapter 4: Georg Simmel
Chapter 5: Max Weber
Chapter 6: Contributions from Women to Classical Social Theory
Chapter 7: George Herbert Mead
Part II The Contemporary Period of Sociological Theory
Chapter 8: Structural Functionalism and Neofunctionalism
Chapter 9: Conflict Theory
Chapter 10: Symbolic Interactionism
Chapter 11: Social Exchange Theory and Network Analysis
Chapter 12: Ethnomethodology and Phenomenology
Chapter 13: Feminist Theory
Chapter 14: Critical Theory
Chapter 15: Modern and Postmodern Theories
Part III Consistent and Significant Themes in Sociological Theory
Chapter 16: Five Centuries of Social Theory
---
Part I The Classical Period of Sociological Theory
Chapter 1: The Early Roots of Sociological Theory
Hobbes, Locke, Rousseau
The Age of Enlightenment
Revolutions
Claude-Henri Saint-Simon
Auguste Comte
Herbert Spencer
Chapter 2: Karl Marx
Biography
Intellectual Influences
Investigation and Application of Marx's Works/Concepts and Contributions
Chapter 3: Emile Durkheim
Biography
Intellectual Influences
Investigation and Application of Durkheim's Works
Chapter 4: Georg Simmel
Biography
Intellectual Influences
Investigation and Application of Simmel's Concepts and Contributions
Chapter 5: Max Weber
Biography
Intellectual Influences
Investigation and Application Of Weber's Concepts and Contributions
Chapter 6: Contributions from Women to Classical Social Theory
Harriet Martineau
Beatrice Potter Webb
Anna Julia Cooper
Ida Wells-Barnett
Charlotte Perkins Gilman
Jane Addams
Marianne Weber
The Ladies of Seneca Falls
Chapter 7: George Herbert Mead
Biography
Intellectual Influences
Investigation and Application of Mead's Concepts and Contributions
Part II The Contemporary Period of Sociological Theory
Chapter 8: Structural Functionalism and Neofunctionalism
Intellectual Roots of Structural Functionalism
Defining Structural Functionalism
Talcott Parsons
Robert Merton
Neofunctionalism
Criticisms of Structural Functionalism
The Application of Structural Functionalism to Contemporary Society
Chapter 9: Conflict Theory
Defining Conflict Theory
The Intellectual Roots of Conflict Theory
Lewis Coser
C. Wright Mills
Ralf Dahrendorf
Randall Collins
Criticisms of Conflict Theory
Application of Conflict Theory to Contemporary Society
Chapter 10: Symbolic Interactionism
Defining Symbolic Interactionism
The Intellectual Roots of Symbolic Interactionism
George Herbert Mead
Herbert Blumer
Erving Goffman
Arlie Russell Hochschild
Criticisms of Symbolic Interactionism
Application of Symbolic Interactionism to Contemporary Society
Chapter 11: Social Exchange Theory and Network Analysis
Defining Social Exchange Theory
The Intellectual Roots of Social Exchange Theory
George Homans
Peter Blau
Karen Cook
Network Analysis
Criticisms of Social Exchange Theory and Network Analysis
Application of Social Exchange Theory and Network Analysis
Chapter 12: Ethnomethodology and Phenomenology
Defining Ethnomethodology
Key Aspects of Harold Garfinkel's Ethnomethodology
Criticisms of Ethnomethodology
Application of Ethnomethodology
Defining Phenomenology
Edmund Husserl and the Phenomenological Approach
Alfred Schutz and Phenomenology
Peter Berger and the Social Construction of Reality
Criticisms of Phenomenology
Application of Phenomenology
Chapter 13: Feminist Theory
Defining Feminism
Feminist Theory: First and Second Waves
Variations of Feminist Theory
Dorothy E. Smith
Sandra Harding
Patricia Hill Collins
Carol Gilligan
Joan Jacobs Brumberg
Barbara Risman
The Application of Feminist Theory and The Third Wave of Feminism
Criticisms of Feminism
Chapter 14: Critical Theory
Defining Critical Theory
The Roots of Critical Theory
Herbert Marcuse
Jurgen Habermas
Douglas Kellner
Criticisms of Critical Theory
Application of Critical Theory to Contemporary Society
Chapter 15: Modern and Postmodern Theories
Defining Postmodern Theory
The Roots of Postmodern Theory
Jacques Derrida
David Riesman
Jean-Francois Lyotard
Jean Baudrillard
Fredric Jameson
Michael Foucault
Criticisms of Postmodern Theory
Application of Postmodern Theory to Contemporary Society
Part III Consistent and Significant Themes in Sociological Theory
Chapter 16: Five Centuries of Social Theory
Major Themes in Sociological Thought
Parting Thoughts and Discussion Questions