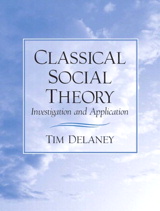 Table of Contents


1. Antecedents: Social, Political, and Philosophical.


2. Auguste Comte.


3. Herbert Spencer.


4. Karl Marx.


5. Emile Durkheim.


6. Georg Simmel.


7. Max Weber.


8. Charles Cooley.


9. George Herbert Mead.


10. Thorstein Veblen.


11. Karl Mannheim.


12. Talcott Parsons.


13. George Homans.


14. Contributions from Women to Classical Social Theory.


Bibliography.


Index.

This title is also sold in the various packages listed below. Before purchasing one of these packages, speak with your professor about which one will help you be successful in your course.
Package ISBN-13: 9780205678785
Includes this title packaged with:
MySearchLab without Pearson eText -- Valuepack Access Card
. . Pearson Education
$146.07 | Add to Cart
Package ISBN-13: 9780131683488
Includes this title packaged with:
Contemporary Social Theory: Investigation and Application
Tim Delaney
$245.40 | Add to Cart
Package ISBN-13: 9780131598652
Includes this title packaged with:
Sociological Classics: A Prentice Hall Pocket Reader
David Kauzlarich
Contemporary Social Theory: Investigation and Application
Tim Delaney
$248.07 | Add to Cart