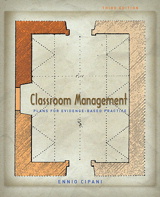 Description
A supplemental text for courses in Classroom Management, Behavior Management, Applied Behavior Analysis, Special Education Methods, Consultation, Inclusion/Mainstreaming, and Introductory Educational Psychology.
The third edition of this manual for classroom management provides teachers and in-service personnel with specific plans of classroom management centered around using evidence-based practice. Written with current and prospective teachers in mind, this text is well-suited as both a resource and a preservice training tool. Readers will appreciate the author's writing style: non-technical and free of most "behavioral" jargon. One need not have extensive training in behavior therapy or learning theory to understand how to apply any of the techniques presented in this manual in their basic form. The author uses a uniform format to present each classroom management plan including: a brief description of the plan, terms, apparatus, baseline measurement, procedures, explanation of how the plan works, additional considerations, hypothetical examples, "what if" questions, and lastly, forms. In Part I, the author delineates evidence-based treatment and how this methodology applies to education and learning. The plans described in the last two parts of the book have a basis in behavioral analysis classroom management research and the methodology for understanding the efficacy of behavioral management systems for changing student behavior. In Part II, disruptive behavior and rule violations are addressed and two new plans have been added. Part III contains four management plans designed to increase student on-task behavior and information to help the teacher to develop a strategy that increases the student's engagement and decrease the onset of additional behavior problems. Serving as a bridge from theory to practice, this manual can also serve as a supplement to a variety of university undergraduate or graduate courses, teacher training programs, and in-service training.
Table of Contents
PART I. INTRODUCTION TO CLASSROOM MANAGEMENT FOR ALL TEACHERS: EVIDENCE-BASED PRACTICE
Chapter 1. Classroom Management and Evidence-Based Practice
PART II. PLANS FOR REDUCING OR ELIMINATIVE DISRUPTIVE AND RULE-VIOLATION
Chapter 2. The Good Behavior Board Game
Chapter 3. Behavioral Contracting
Chapter 4. Individual Disruptive Incident Barometer
Chapter 5. Signal Time-Out for Minor Disruptive Behavior
Chapter 6. Removal Time-Out for Severe Disruptive and Aggressive Behavior
Chapter 7. Positive Compliance Momentum
PART III. PLANS FOR KEEPING ON TASK AND COMPLETING ASSIGNMENTS
Chapter 8. The Beeper System
Chapter 9. Task Engagement Program (TEP)
Chapter 10. Grandma's Rule for Increasing In-Seat Behavior
Chapter 11. Response Cards
Epilogue.
Appendix A: Using Powerful Reinforcers in Your Classroom
Appendix B: Providing Behavioral Consultation to School Personnel
References.