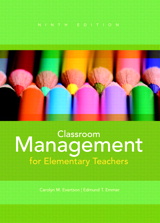 Description
For introductory courses in classroom management that focus on middle- and/or secondary settings.
A clear and practical guide for establishing and maintaining a comprehensive classroom management system in today's elementary school classrooms.
Written for the prospective or new teacher, Classroom Management for Elementary Teachers, Ninth Edition, provides teachers with the skills, approaches, and strategies necessary to establish effective management systems in elementary school classrooms. Based on 30 years of research and experience in more than 500 classrooms, the authors provide details on how to plan, develop, and implement a classroom management system that helps create a classroom environment that facilitates and focuses on learning. Examples, checklists, case study vignettes, and group activities illustrate key concepts and make the content concrete, allowing readers to reflect on and apply the content to real-life settings.
Table of Contents
Preface
Chapter 1: Introduction to Classroom Management
Chapter 2: Organizing Your Classroom and Materials
Chapter 3: Establishing Classroom Rules and Procedures
Chapter 4: Procedures for Managing Student Work
Chapter 5: Getting Off to a Good Start
Chapter 6: Planning and Conducting Instruction
Chapter 7: Managing Cooperative Learning Groups
Chapter 8: Maintaining Appropriate Student Behavior
Chapter 9: Communication Skills for Teaching
Chapter 10: Managing Problem Behaviors
Chapter 11: Managing Special Groups
APPENDIX: Answer Keys for Chapter Activities
REFERENCES