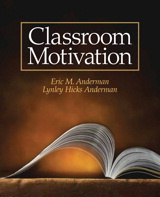 Description
If you're looking for an alternative to teaching future educators about academic motivation not bogged down in theory and research, then look to this new and unique text, Anderman and Anderman's Classroom Motivation. The authors link the growing disconnect between what motivation researches discuss and recommend, and what teachers know and think about students' motivation, organizing the text around actual research-based instructional practices that teachers use everyday in their classrooms. Theory and research are not ignored, however, as both are introduced and thoroughly discussed in every chapter as they relate to the specific instructional practices that are being presented. Readers of the text will come to understand that motivation in inherently embedded in the everyday decision that teachers make as they design their instruction. Classroom Motivation, structured around instructional questions and issues while integrating theory and research throughout, results in a sound and grounded resource, most accessible for pre-service teachers and practitioners in educational environments.
Table of Contents
Chapter 1: What is Motivation?

Chapter 2: Choosing Academic Tasks For Your Students

Chapter 3: Using Rewards Effectively

Chapter 4: Evaluating Students' Academic Work

Chapter 5: Grouping Students for Instruction

Chapter 6: Working with Parents

Chapter 7: The Nature of Autonomy

Chapter 8: Self-Esteem

Chapter 9: Holding High Expectations for Students

Chapter 10: Motivational Problems

Chapter 11: Creating Positive Learning Environments


Purchase Info ?
With CourseSmart eTextbooks and eResources, you save up to 60% off the price of new print textbooks, and can switch between studying online or offline to suit your needs.
Once you have purchased your eTextbooks and added them to your CourseSmart bookshelf, you can access them anytime, anywhere.
Buy Access
Classroom Motivation, CourseSmart eTextbook
Format: Safari Book
$20.60 | ISBN-13: 978-0-13-208153-5