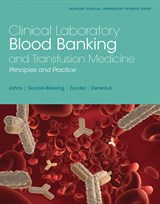 Description
Clinical Laboratory Blood Banking and Transfusion Medicine: Principles and Practices provides readers with the didactic foundation, background, and tools to successfully function in a typical transfusion medicine laboratory. The text's teaching and learning package includes an Instructor's Manual, lecture slides, and test bank.
Teaching and Learning Experience:
Presents detailed technical information and real-life case studies that help learners envision themselves as members of the health care team

Mixes theoretical and practical information that allows learners to analyze and synthesize the concepts

Complemented by a variety of ancillary materials designed to help instructors be more effective and students more successful
Table of Contents
1. The Immune Process: The Origin and Interaction Between Antigens and Antibodies
2. Immunogenetics: The Origin of Antigens
3. Blood Bank Applications of Antigen–Antibody Reactions
4. ABO and Hh Blood Group Systems
5. Rh, RHAG, and LW Blood Group Systems
6. Other Blood Group Systems
7. Pretransfusion and Compatibility Testing
8. Identification of Unexpected Antibodies
9. Donor Selection, Phlebotomy, and Required Testing
10. Blood Products: Preparation, Storage, and Shipment of Blood Components
11. Component Therapy and Massive Transfusion
12. Adverse Reactions to Transfusion
13. Transfusion-Transmitted Infections
14. Perinatal and Neonatal Transfusion Issues
15. Autoimmune and Drug-Induced Immune Hemolytic Anemias
16. Platelet Refractory Patients
17. Transfusion Support of Selected Patient Populations
18. Human Histocompatibility
19. Methods in Parentage Testing
20. Transfusion Safety and Regulatory Issues
21. Quality Assurance
These online resources are available at no cost.
Student Resources Page for Clinical Laboratory Blood Banking and Transfusion Medicine Practices
This title is also sold in the various packages listed below. Before purchasing one of these packages, speak with your professor about which one will help you be successful in your course.
Package ISBN-13: 9780134107226
Includes this title packaged with:
Clinical Laboratory Microbiology: A Practical Approach
Karen Kiser, William Payne, Theresa Taff
Clinical Laboratory Urinalysis and Body Fluids
Robert Sunheimer, Linda Graves, Wendy Stockwin, Elizabeth Gockel-Blessing
Clinical Laboratory Chemistry
Robert Sunheimer, Linda Graves
SUCCESS! in Clinical Laboratory Science, 4th Edition
Anna Ciulla, Donald Lehman
Clinical Laboratory Hematology, 3rd Edition
Shirlyn B. McKenzie, Lynne Williams
Clinical Laboratory Mathematics
Mark Ball
Contemporary Clinical Immunology and Serology
Kate Rittenhouse-Olson, Ernesto DeNardin
Phlebotomy Handbook, 9th Edition
Diana Garza, Kathleen Becan-McBride
$897.87 | Add to Cart
Purchase Info
Digital Choices ?
MyLab & Mastering with Pearson eText is a complete digital substitute for a print value pack at a lower price.
eTextbook ?
With VitalSource eTextbooks, you save up to 60% off the price of new print textbooks, and can switch between studying online or offline to suit your needs.
Access your course materials on iPad, Android and Kindle devices with VitalSource Bookshelf, the textbook e-reader that helps you read, study and learn brilliantly. Features include:
See all of your eTextbooks at a glance and access them instantly anywhere, anytime from your Bookshelf - no backpack required.
Multiple ways to move between pages and sections including linked Table of Contents and Search make navigating eTextbooks a snap.
Highlight text with one click in your choice of colors. Add notes to highlighted passages. Even subscribe to your classmates' and instructors' highlights and notes to view in your book.
Scale images and text to any size with multi-level zoom without losing page clarity. Customize your page display and reading experience to create a personal learning experience that best suits you.
Print only the pages you need within limits set by publisher
Supports course materials that include rich media and interactivity like videos and quizzes
Easily copy/paste text passages for homework and papers
Supports assistive technologies for accessibility by vision and hearing impaired users