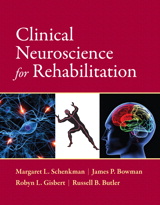 Description
For all courses in functional and clinical neuroscience.
This text is designed to help students understand the nervous system structures and functions that allow for complex neurophysiological processing in support of human functions and behavior. Students are guided through learning the vocabulary of contemporary neuroscience, understanding the nervous system's structural organization and communications mechanisms, and learning how structures are linked anatomically and functionally to mediate specific behaviors. To facilitate learning, this text builds incrementally on basic information to introduce increasingly detailed and complex structures, functions, and terminology. As students proceed, they develop working knowledge for predicting neurological problems associated with specific diseases or injury, and analyzing appropriate interventions.
Table of Contents
PART I: FUNDAMENTALS: THE RELATIONSHIPS AND DEVELOPMENT OF STRUCTURES, AND THE BASIS OF THEIR COMMUNICATION
1. Basic Design and Development of the Nervous System
2. Regional Anatomy and Blood Supply
3. Cells of the Nervous System.
4. Cellular Neurobiology
PART II: ANATOMY OF THE MAJOR REGIONS OF THE CENTRAL NERVOUS SYSTEM AND THEIR BLOOD SUPPLY
5. Spinal Cord and Brainstem
6. Diencephalon and Cerebellum
7. Cerebral Hemispheres and Vascular Supply
PART III: SOMATOSENSORY AND MOTOR SYSTEMS FOR THE EXTREMITIES AND TRUNK
8. Introduction to Somatic Sensory and Motor Systems
9. Somatic Sensory Systems for the Extremities and Trunk
10. Peripheral Components of the Motor System
11. Central Components of Movement
12. Autonomic Nervous System
PART IV: SOMATOSENSORY AND MOTOR SYSTEMS FOR THE HEAD AND NECK
13. Brainstem I: Cranial Nerves
14. Brainstem II: Systems and Pathways
15. Brainstem III: Organization, Blood Supply, and Clinical Correlates
PART V: SPECIAL FUNCTIONAL SYSTEMS OF THE CNS: MOTOR AND SENSORY SYSTEMS
16. Pain and Its Modulation
17. Auditory and Vestibular Systems
18. Visual System
19. Cerebellum and Basal Ganglia
20. Voluntary Movement
PART VI: SPECIAL FUNCTIONAL SYSTEMS OF THE CNS: COGNITIVE SYSTEMS
21. Cognition: Cortical and Subcortical Contributions
22. Emotion, Memory, and Language
23. Normal and Abnormal Aging of the Central Nervous System
PART VII: INJURY, DISEASE, AND RECOVERY OF THE NERVOUS SYSTEM FUNCTIONS
24. Cortical Strokes
25. The Brain's Environment and Brain Injury
26. Brain Plasticity: Injury, Recovery, and Rehabilitation
APPENDICES
Brain Imaging
Electrodiagnostic Techniques in Clinical Practice
Atlas of the Forebrain
GLOSSARY
INDEX
Purchase Info ?
With CourseSmart eTextbooks and eResources, you save up to 60% off the price of new print textbooks, and can switch between studying online or offline to suit your needs.
Once you have purchased your eTextbooks and added them to your CourseSmart bookshelf, you can access them anytime, anywhere.
Buy Access
Clinical Neuroscience for Rehabilitation, CourseSmart eTextbook
Format: Safari Book
$44.99 | ISBN-13: 978-0-13-302698-6