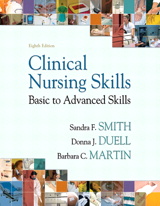 Description
The most complete, up-to-date and useful guide to modern clinical nursing skills available! With more than 1,200 full-color images illustrating more than 750 new and updated skills, CLINICAL NURSING SKILLS, 8/e is the definitive resource for best practice nursing standards, guidelines, and competencies. The authors teach through extensive case studies and critical thinking features, and thoroughly explain the rationales for each skill and technique. Strong coverage of evidence-based care, cultural/religious considerations, nursing management, and community based nursing is provided throughout. Easily adaptable to any conceptual curriculum model, this text also contains hundreds of NCLEX®-style review questions. This edition adds a new chapter on neurological care; has integrated coverage of home care throughout; provides substantial new coverage of the 2010 national patient safety goals; and contains approximately 50 new skills.
Table of Contents
1. Professional Nursing
2. Nursing Process and Critical Thinking
3. Managing Client Care: Documentation and Delegation
4. Communication and Nurse-Client Relationship
5. Admission, Transfer, and Discharge
6. Client Education and Discharge Planning
7. Safe Client Environment and Restraints
8. Bathing, Bedmaking, and Maintaining Skin Integrity
9. Personal Hygiene
10. VItal Signs
11. Physical Assessment
12. Body Mechanics and Positioning
13. Exercise and Ambulation
14. Infection Control
15. Disaster Preparedness. Bioterrorism
16. Pain Management
17. Alternative Therapies and Stress Management
18. Medication Administration
19. Nutritional Management and NG Intubation
20. Specimen Collection
21. Diagnostic Procedures
22. Urinary Elimination
23. Bowel Elimination
24. Heat and Cold Therapies
25. Wound Care and Dressings
26. Perioperative Care
27. Orthopedic Interventions
28. Intravenous Therapy
29. Central Vascular Access
30. Respiratory Care
31. Circulatory Maintenance
32. Neurological Management - NEW!
33. Advanced Nursing Skills
34. End of Life Care
This title is also sold in the various packages listed below. Before purchasing one of these packages, speak with your professor about which one will help you be successful in your course.