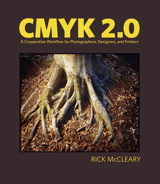 Description
Twenty years ago, achieving predictable CMYK color on press was a relatively straightforward process. All the partners in the process—photographers, designers, and printers—had clearly defined roles and responsibilities. With the introduction of Adobe Photoshop in 1990, the digital imaging revolution changed all that. Roles suddenly shifted and blurred. Standards disintegrated. The entire process quickly spiraled into a chaotic free-for-all that couldn't help but leave everyone frustrated as they scratched their heads and wondered, "What's wrong with my color?"
CMYK 2.0: A Cooperative Workflow for Photographers, Designers, and Printers
has one purpose: to get us all back on the same path to creating predictable color in the RGB-to-CMYK workflow. In a field that often features very strong—and very different—opinions, author Rick McCleary emphasizes the need for cooperation, collaboration, and communication. After first establishing a context for how we all got here, McCleary redefines each partner's role in the process, demystifies the entire RGB-to-CMYK workflow, and offers a clear, step-by-step guide to achieving predictable color on press. Written with exceptional clarity,
CMYK 2.0
presents a highly detailed and thoroughly rigorous approach to CMYK color, and it offers a workflow that all photographers, designers, and printers need—one that works.
The book's
companion website
provides a collaborative forum of growing resources and information on all things CMYK.
Table of Contents
Introduction
Chapter 1 The Mindset
Chapter 2 The Big Picture
Chapter 3 The Tools
Chapter 4 The Color Management Primer
Chapter 5 The CMYK Primer
Chapter 6 The Steps
Chapter 7 The Stories
Index


Purchase Info
ISBN-10: 0-321-60666-3
ISBN-13: 978-0-321-60666-2
Format: Safari PTG
This publication is not currently for sale.