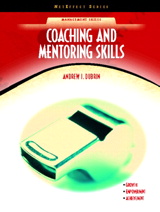 Table of Contents
1. Building Trust.
2. Showing Empathy.
3. Active Listening.
4. Using Influence Tactics.
5. Helping Others Set Goals.
6. Monitoring Performance.
7. Giving Feedback.
8. Encouraging Positive Actions.
9. Discouraging Negative Actions.
10. Training Team Members.
11. Helping Others Solve Problems.
12. Helping Difficult People.
13. Developing Protégés.
This title is also sold in the various packages listed below. Before purchasing one of these packages, speak with your professor about which one will help you be successful in your course.
Package ISBN-13: 9780132839914
Includes this title packaged with:
Painless Performance Evaluations
Marnie E. Green
$58.48 $55.56 | Add to Cart