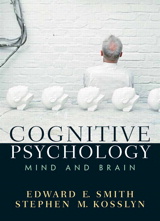 Table of Contents
1. How the Brain Gives Rise to the Mind.
2. Perception.
3. Attention.
4. Representation and Knowledge in Long-Term Memory.
5. Encoding and Retrieval from Long-Term Memory.
6. Working Memory.
7. Executive Processes.
8. Emotion and Cognition.
9. Decision Making.
10. Problem Solving and Reasoning.
11. Motor Cognition and Mental Simulation.
12. Language.
This title is also sold in the various packages listed below. Before purchasing one of these packages, speak with your professor about which one will help you be successful in your course.
Package ISBN-13: 9780205701476
Includes this title packaged with:
MyLab Search without Pearson eText -- Valuepack Access Card
Pearson Education, . . Pearson Education
$246.65 $234.32 | Add to Cart