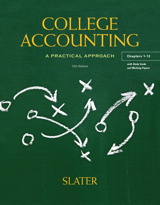 Description
Back to basics.
College Accounting: A Practical Approach focuses on getting back to the basics of accounting by providing readers with plenty of detailed instruction, opportunities to apply what they learn, and a basic overview of accounting in today's technology-driven world.
Table of Contents
Chapter 1: Accounting Concepts and Procedures
Chapter 2: Debits and Credits: Analyzing and Recording Business Transactions
Chapter 3: Beginning the Accounting Cycle
Chapter 4: The Accounting Cycle Continued
Chapter 5: The Accounting Cycle Completed
Chapter 6: Banking Procedure and Control of Cash
Chapter 7: Calculating Pay and Payroll Taxes: The Beginning of the Payroll Process
Chapter 8: Paying, Recording, and Reporting Payroll and Payroll Taxes: The Conclusion of the Payroll Process
Chapter 9: Sales and Cash Receipts
Chapter 10: Purchases and Cash Payments
Chapter 11: Preparing a Worksheet for a Merchandise Company
Chapter 12: Completion of the Accounting Cycle for a Merchandise Company
Enhance your learning experience with text-specific study materials.