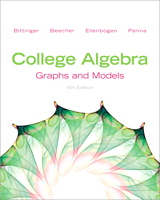 Description
The Graphs and Models series by Bittinger, Beecher, Ellenbogen, and Penna is known for helping students "see the math" through its focus on visualization and technology. These books continue to maintain the features that have helped students succeed for years: focus on functions, visual emphasis, side-by-side algebraic and graphical solutions, and real-data applications.
With the
Fifth Edition
, visualization is taken to a new level with technology, and students find more ongoing review. In addition, ongoing review has been added with new
Mid-Chapter Mixed Review
exercise sets and new
Study Guide summaries
to help students prepare for tests.
Purchase Info ?
With CourseSmart eTextbooks and eResources, you save up to 60% off the price of new print textbooks, and can switch between studying online or offline to suit your needs.
Once you have purchased your eTextbooks and added them to your CourseSmart bookshelf, you can access them anytime, anywhere.
Buy Access
College Algebra: Graphs and Models, CourseSmart eTextbook, 5th Edition
Format: Safari Book
$92.99 | ISBN-13: 978-0-321-79129-0