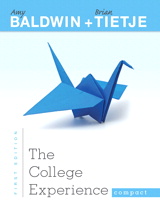 Description
For courses in First Year Experience, Student Success, and Introduction to College.
This book meets students where they are by providing only the most timely and important information, organized around when students need it, without any of the "fluff."
Student success doesn't just happen. Instead, it is a combination of motivation, preparation, knowledge, persistence, and relationships. You know that no matter how prepared some students are for the academic challenges of college, they may not always be ready for the cultural challenges that include understanding professors' expectations and navigating the financial issues that are part of the college experience. So much of what we expect students to know about being a successful student is what we call "hidden rules" and the rest is new information about how college works.
This book has been written to help you help your students by providing clear, concise, and practical information that students need. There is no room in college students' schedule for "fluff" and this book respects that. All of the chapters present the information and concepts that are beneficial to students during the college careers. Within the chapters, features direct students to review important college documents such as the syllabus and consider how to make good choices and maintain their personal integrity while in college. Additionally, the features in each chapter provide opportunities for analyzing their own situations and applying the content to new situations. Specifically, students will learn what the college expectations are and how to meet them.
Faculty who teach the course should need little else than the support offered in the Instructor's Resource Manual and My Student Success Lab to be a classroom hero or heroine!
TECHNOLOGY OFFERING: Student Success CourseConnect (http://www.pearsonlearningsolutions.com/courseconnect) is one of many award-winning CourseConnect online courses designed by subject matter experts and credentialed instructional designers. MyStudentSuccessLab is an online solution designed to help students 'Start strong, Finish stronger' by building skills for ongoing personal and professional development. Go to http://mystudentsuccesslab.com/mssl3 for a Point and Click DEMO.
Table of Contents
Preface
Lesson 1: Your Mission Statement and Goals
Lesson 2: Time Management
Lesson 3: Money Management
Lesson 4: Critical and Creative Thinking
Lesson 5: Learning Preferences
Lesson 6: Listening and Note-taking
Lesson 7: Reading and Note-taking
Lesson 8: Studying and Test-taking
Lesson 9: Communication and Diversity
Lesson 10: Information Literacy
Lesson 11: Managing Stress
Lesson 12: Career Exploration
Glossary
Index
Purchase Info ?
With CourseSmart eTextbooks and eResources, you save up to 60% off the price of new print textbooks, and can switch between studying online or offline to suit your needs.
Once you have purchased your eTextbooks and added them to your CourseSmart bookshelf, you can access them anytime, anywhere.
Buy Access
College Experience Compact, The, CourseSmart eTextbook
Format: Safari Book
$29.99 | ISBN-13: 978-0-321-85735-4