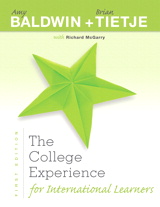 Description
First-Year Experience, College Orientation, Student Success, Student Development. English as a Second Language, English for International Students.
An essential "University as a Second Language" roadmap for international ESL students. Concise and clear explanations on a variety of cultural and language topics supported by discovery-based activities.
The International Student Experience is your roadmap for this new exciting journey into American university life. It serves as a companion on your expedition. The readings and activities provide you an opportunity to practice the kinds of English skills you will both experience and need on campus, from the most informal conversation to the most formal types of writing and presentation skills. Included in this guide are helpful strategies to enhance your proficiency as an American college student, while enhancing your understanding of some of the most interesting facets of American culture. Primarily through the use of a learn-by-doing methodology, you will engage in discovery-based learning and research.
TECHNOLOGY OFFERING: MyStudentSuccessLab is available upon request. It is an online solution designed to help students 'Start strong, Finish stronger' by building skills for ongoing personal and professional development. Go to http://mystudentsuccesslab.com/mssl3 for a Point and Click DEMO.
Table of Contents
The College Experience for International Learners helps students:
Gain greater self-awareness

Define their personal identity

Visualize stories of success from within their reference group

Identify their resource network

Establish their personal strategy for success
Purchase Info ?
With CourseSmart eTextbooks and eResources, you save up to 60% off the price of new print textbooks, and can switch between studying online or offline to suit your needs.
Once you have purchased your eTextbooks and added them to your CourseSmart bookshelf, you can access them anytime, anywhere.
Buy Access
College Experience for International Learners, The, CourseSmart eTextbook
Format: Safari Book
$7.99 | ISBN-13: 978-0-321-86355-3