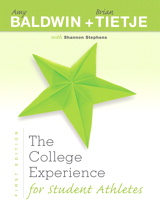 Description
For First-Year Experience, College Orientation, Student Success, Student Development courses, or Student Athlete Success (programs or advising). Attractive to institutions with expansive sports programs.
The College Experience for Student Athletes provides faculty and student-athletes with a greater understanding of the unique qualities and time commitments student-athletes have while striving for academic success.
This text provides student-athletes with a greater understanding of their ability to succeed by transferring skills they already possess into the academic realm. Few athletes take the time to critically think about the inherent skill set they possess as an athlete and how these skills can be enhanced and transferred from performance on the playing field to the classroom. Student-athletes are in the media spotlight and are many times marginalized due to preconceived notions, but need guidance and support, just like other students. This book provides greater understanding to both faculty and student-athletes to appreciate each other's roles on campus, and with a greater understanding comes respect for each other and ultimately leads to a greater appreciation of higher education. It also provides student-athletes with the information necessary to communicate and build relationships on campus that will lead to greater academic success. The primary focus is on student-athletes first year, but references the whole academic experience as well.
TECHNOLOGY OFFERING: MyStudentSuccessLab is available with this book upon request. It is an online solution designed to help students 'Start strong, Finish stronger' by building skills for ongoing personal and professional development. Go to http://mystudentsuccesslab.com/mssl3 for a Point and Click DEMO.
Table of Contents
The College Experience for Student Athletes helps students:
Gain greater self-awareness

Define their personal identity

Visualize stories of success from within their reference group

Identify their resource network

Establish their personal strategy for success
Purchase Info ?
With CourseSmart eTextbooks and eResources, you save up to 60% off the price of new print textbooks, and can switch between studying online or offline to suit your needs.
Once you have purchased your eTextbooks and added them to your CourseSmart bookshelf, you can access them anytime, anywhere.
Buy Access
College Experience for Student Athletes, The, CourseSmart eTextbook
Format: Safari Book
$7.99 | ISBN-13: 978-0-321-86351-5