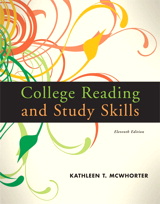 Description
College Reading and Study Skills presents advanced reading strategies and study skills in tandem through direct instruction and multiple opportunities for skill application.
Kathleen McWhorter wrote College Reading and Study Skills, primarily, for courses that are half reading, half study skills. Emphasizing comprehension and metacognition, College Reading and Study Skills approaches reading and study skills as essential skills necessary for college success. The text focuses on reading and learning as a cognitive process, encouraging to approach reading as an active mental process of selecting, processing, and organizing information to be learned.
Table of Contents
PART ONE: Building a Foundation for Academic Success
Success Workshops:
1. Learn Everything You Can in the First Week
2. Learning About and Using Campus Resources
Chapter 1: Setting Goals and Managing Your Time
Chapter 2: Learning Style and Learning Strategies
Chapter 3: Improving Learning and Memory
Chapter 4: Taking Notes in Class
Chapter 5: Classroom Communication
PART TWO: Reading and Thinking Critically
Success Workshops:
3. Strengthen Your Concentration
4. Stay Healthy and Manage Stress
Chapter 6: Active Reading Strategies
Chapter 7: Understanding Paragraphs
Chapter 8: Following Thought Patterns
Chapter 9: Evaluating the Author's Message
Chapter 10: Evaluating Authors' Techniques
Chapter 11: Using Context and Word Parts
Chapter 12: Expanding Your Vocabulary
Chapter 13:Reading and Evaluating Visual and Online Sources
Chapter 14: Reading Other Academic Sources
PART THREE: Reading Textbook Chapters and Assignments
Success Workshops:
5. Get the Most Out of Your Textbooks
6. Keep A Vocabulary Log
Chapter 15: Textbook Highlighting and Marking
Chapter 16: Methods of Organizing Information
Chapter 17: Sample Textbook Chapter
PART FOUR: Strategies for Academic Achievement
Success Workshops:
7. Polish Your Academic Image
8. Establish Your Academic Integrity
Chapter 18: Study and Review Strategies
Chapter 19: Preparing for Exams
Chapter 20: Taking Exams
Chapter 21: Improving Your Reading Rate and Flexibility
PART FIVE: Thematic Readings
THEME A: Body Adornment
THEME B: Technology and the Internet
THEME C: Controversies in Science
THEME D: Men's and Women's Communication (available online only)
Purchase Info ?
With CourseSmart eTextbooks and eResources, you save up to 60% off the price of new print textbooks, and can switch between studying online or offline to suit your needs.
Once you have purchased your eTextbooks and added them to your CourseSmart bookshelf, you can access them anytime, anywhere.
Buy Access
College Reading and Study Skills, CourseSmart eTextbook, 11th Edition
Format: Safari Book
$42.99 | ISBN-13: 978-0-205-75521-9