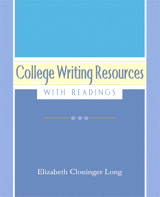 Description
College Writing Resources is a complete resource for writing courses, providing strong, clear writing instruction to guide students in the process of composing essays in a variety of modes and an unsurpassed amount of exercises. The third of a three-book series, College Writing Resources fits perfectly in essay- and bridge-level courses. Betsy Long's successful writing framework, the Four Cs (concise, credible, clear, correct checkpoints), is used consistently to reinforce corresponding skills. A cultural literacy theme runs through the text as each chapter is introduced by a short Culture Note and has that topic carried throughout in illustrations, sample paragraphs, and exercises. An appealing four-color design showcases the photos and adds visual interest for an increasingly visual student body.
Table of Contents
I. GETTING STARTED
1. Your Strengths as a Writer

2. Having a Reader and a Reason: Understanding Audience and Purpose

3. The Bases of Good Writing: The Four Cs
II. THE WRITING PROCESS
4. Prewriting

5. Drafting: Writing a Rough Draft

6. Making Changes: Revision

7. Editing: Checking for Correctness
III. THE ELEMENTS OF GOOD WRITING
8. Essay Paragraphs and the Thesis Statement

9. Supporting Your Ideas 10. Organizing and Linking Ideas

11. Sensitive Language

12. Confusing Words

13. Choosing the Best Word

14. Improving Your Spelling

15. Varying Your Sentences

16. Format
IV. STRATEGIES FOR ESSAY DEVELOPMENT
17. Providing Illustrations and Examples

18. Narrating an Event or Story

19. Describing a Scene, Person, or Object

20. Classifying and Dividing 21. Explaining a Process

22. Comparison and Contrast

23. Cause and Effect Development

24. Definition

25. Arguing a Position

26. Using More than One Organizational Strategy
V. WRITING FOR DIFFERENT PURPOSES
27. Writing an In-Class Essay

28. Writing Summaries and Reports

29. Writing to Get a Job
VI. RESEARCH
30. Searching for, Evaluating, and Integrating Information

31. Writing a Research Essay
VII. WRITING CORRECT SENTENCES
Grammar diagnostic

32. Prepositional Phrases

33. Subjects and Verbs

34. Clauses

35. Run-On Sentences

36. Fragments

37. Regular Verbs

38. Irregular Verbs

39. Subject-Verb Agreement

40. Verb Tense and Tense Consistency

41. Pronoun Types

42. Pronoun Agreement

43. Adjectives and Adverbs

44. Misplaced Modifiers

45. Dangling Modifiers

Punctuation Diagnostic

46. Commas

47. Apostrophes

48. Quotation Marks

49. Other Punctuation Marks

50. Capitalization

51. Abbreviations and Numbers

52. ESL Tips
VIII. READINGS
Readings for Informed Writing
Our Identities
READING 1 "Liked for Myself," Maya Angelou
READING 2 "Saving the Home from Martha Stewart," Elizabeth Austin
READING 3 "The Misery of Silence," Maxine Hong Kingston
READING 4 "Respectable addiction," Michael Kinsman
READING 5 "Labor," Richard Rodriguez
READING 6 "Hearing the Sweetest Songs," Nicolette Toussaint
Our World
READING 7 "So Tiny, So Sweet . . . So Mean," Richard Conniff
READING 8 "Creatures That Haunt the Americas," Constance García-Barrio
READING 9 "Four Kinds of Reading," Donald Hall
READING 10 "Caught in the Catty Corner," Nanci Hellmich
READING 11 "Poor Winnie the Pooh. Not even he is safe from rampant'therapism,' " Ben MacIntyre
READING 12 "Two Gentlemen of the Pines," John McPhee
Our Values
READING 13 "Whose Life is it, Anyway?" Mary Battiata
READING 14 "A Reason to Forgive," Pat Burson
READING 15 "Petty Crime, Outrageous Punishment: Why the Three-Strikes Law Doesn't Work," Carl M. Cannon
Enhance your learning experience with text-specific study materials.