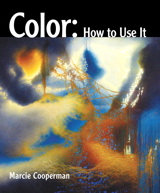 Description
For courses in art and design foundations, interior design, fashion design, merchandising, graphic and communications design, and design marketing.
An in-depth look at color and how we perceive it.
Color relationships and compositional elements can completely change how we perceive color. Color and How to Use It is the first in-depth color theory textbook that examines color interactions and how they can be manipulated in art and design. Chapters examine the history of color, color theory, and the many factors that influence our perception of color. The text aims to help readers (1) learn to see color, color relationships, and elements of composition that affect the perception of color; (2) understand how altering just one color or compositional element will change the dynamics of a composition; and (3) gain skills in using color and composition to their greatest potential in 2-D design.
Table of Contents
Chapter 1 Color Theory History
Chapter 2 Color Perception and The Elements of Color: Hue, Value and Intensity
Chapter 3 Color Relationships
Chapter 4 Lines of Compositions
Chapter 5 Energy and Continuity
Chapter 6 Balance
Chapter 7 Planes and Color
Chapter 8 More Composition: Gestalt Theory and Dominance
Chapter 9 Color Interactions – Backgrounds, Borders and Transparency
Chapter 10 Using Color to Communicate in the Design Industries
Chapter 11 Visual sources of inspiration for composition and color
Chapter12 Audio sources of inspiration
Chapter 13 Pattern and Texture
Purchase Info ?
With CourseSmart eTextbooks and eResources, you save up to 60% off the price of new print textbooks, and can switch between studying online or offline to suit your needs.
Once you have purchased your eTextbooks and added them to your CourseSmart bookshelf, you can access them anytime, anywhere.
Buy Access
Color: How to Use It, CourseSmart eTextbook
Format: Safari Book
$50.99 | ISBN-13: 978-0-13-266400-4