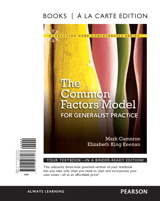 Description
Presents a new research-based model – The Common Factors Model – for generalist social work practice.
The Common Factors Model for Generalist Practice presents critical practice conditions and processes that research has suggested produce the most effective outcomes. These practice conditions include attributes of the social worker, clients, working relationships, supporting networks that influence and enable work, and the essential strategies social workers and clients engage in to facilitate change.
Part of the Connecting Core Competencies Series, the text guides students to use the common factors model for practice thinking, decision making, and evaluation.
Upon completing this book readers will be able to:
Use the common factors model to think about generalist practice

Understand how to apply the common factors model

Discuss challenges to using the common factors model

Consider how their personal values, knowledge, and tendencies support or inhibit practice
Note: MySearchLab does not come automatically packaged with this text. To purchase MySearchLab, please visit: www.mysearchlab.com or you can purchase a ValuePack of the text + MySearchLab (at no additional cost): ValuePack ISBN-10: 020519611X / ValuePack ISBN-13: 9780205196111.