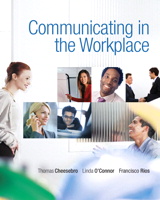 Description
For courses in Interpersonal Communication, Workplace Communication or Business Communication.
Designed for the 2-year college student, this one-of-a-kind oral communication textbook will help students develop communication skills that will ensure job success. Each chapter includes real-life stories, appealing visuals, and examples that add meaning and increase comprehension. Skill-based assignments and online learning activities appear in both the text and on the book's website. Its learn-by-doing approach helps students understand the importance of communication skills, conflict resolution strategies and listening practices to their own career success.
Table of Contents
Table of Contents
1. Communication Concepts
2. Perception
3. Cultural Diversity
4. Language
5. Listening and Responding
6. Interpersonal Relationship Skills
7. Conflict Resolution
8. Teamwork
9. Preparing the Informative Presentation
10. Organizing Informative Outlines
11. Verbal & Visual Supports
12. Gathering Information
13. Delivering Presentations
14. Persuasive Speaking
15. Interviewing Skills
Purchase Info ?
With CourseSmart eTextbooks and eResources, you save up to 60% off the price of new print textbooks, and can switch between studying online or offline to suit your needs.
Once you have purchased your eTextbooks and added them to your CourseSmart bookshelf, you can access them anytime, anywhere.
Buy Access
Communicating in the Workplace, CourseSmart eTextbook
Format: Safari Book
$56.99 | ISBN-13: 978-0-13-505615-8