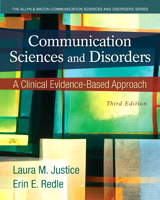 Description
A clinical, case-based approach to communication sciences and disorders.
Communication Sciences and Disorders, 3/e introduces students to the field through clinicians, patients and families. Rich with examples, the first part covers foundational concepts of development, anatomy, physiology, augmentative communication and complex communication. Following these foundations, the second part highlights inherited and acquired disorders affecting children and older adults. A new chapter features multicultural topics, while an expanded chapter delves into advancements in assessment and intervention. Strong themes of literacy weave throughout.
Table of Contents
PART I: FOUNDATIONS OF COMMUNICATION SCIENCES AND DISORDERS
1. Fundamentals of Communication Sciences and Disorders
2. An Overview of Communication Development
3. Anatomical and Physiological Bases of Communication and Communication Disorders
4. Augmentative and Alternative Communication and Complex Communication Needs
5. Communication Disorders in a Multicultural World
PART II: COMMUNICATION DISORDERS ACROSS THE LIFESPAN
6. Evidence-Based Practices in Assessment and Intervention
7. Child Language Disorders
8. Adult Language Disorders and Cognitive-Based Dysfunctions/Reading Disabilities
9. Speech Sound Disorders
10. Fluency Disorders
11. Voice Disorders
12. Motor Speech Disorders: Apraxia and Dysarthria
13. Pediatric Hearing Loss
14. Hearing Loss in Adults
15. Feeding and Swallowing Disorders
Purchase Info
ISBN-10: 0-13-338901-4
ISBN-13: 978-0-13-338901-2
Format: Special Item
This publication is not currently for sale.