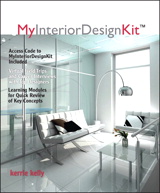 Description
The goal: Re-imagine what texts and resources for interior design education might look like.
The resources contained in MyInteriorDesignKit and this companion text are an experiment in interactive learning. Rather than giving static facts and endless pages of text, users are introduced to the core topics of interior design through the real experiences of successful industry professionals. Learners are engaged and challenged by taking them on virtual field trips to suppliers, paint manufacturers and all the locations where the business of design happens. Videos are used to simulate decision making activities and encourage learners to think like designers. Also, Included are learning modules in print and digital forms to introduce users to core topics in a fun, interactive way!
Table of Contents
Chapter 1 Defining Interior Design and the Process
Chapter 2 The Interior Design Profession
Chapter 3 Elements and Principles of Design
Chapter 4 Colors and Palettes
Chapter 5 Lighting for Interiors
Chapter 6 Planning the Space: Room by Room
Chapter 7 Finishes: Floor to Ceiling
Chapter 8 Furniture Selections
Chapter 9 The Details: Artwork and Accessories
Chapter 10 Universal Design
Chapter 11 Special Considerations: Sustainable Design
Chapter 12 Communicating the Vision
Chapter 13 The Business of Interior Design
Chapter 14 The Next Steps
INDEX
This title is also sold in the various packages listed below. Before purchasing one of these packages, speak with your professor about which one will help you be successful in your course.
Package ISBN-13: 9780133120288
Includes this title packaged with:
Anglicized and Illustrated Dictionary of Interior Design, The
Josette H. Rabun, Catherine L. Kendall, Julie L. Rabun
$74.25 | Add to Cart
Purchase Info
Digital Choices ?
MyLab & Mastering with Pearson eText is a complete digital substitute for a print value pack at a lower price.
MyLab & Mastering ?
MyLab & Mastering products deliver customizable content and highly personalized study paths, responsive learning tools, and real-time evaluation and diagnostics. MyLab & Mastering products help move students toward the moment that matters most—the moment of true understanding and learning.
eTextbook ?
With CourseSmart eTextbooks and eResources, you save up to 60% off the price of new print textbooks, and can switch between studying online or offline to suit your needs.
Once you have purchased your eTextbooks and added them to your CourseSmart bookshelf, you can access them anytime, anywhere.