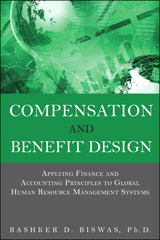 Description
In Compensation and Benefit Design, Bashker D. Biswas shows exactly how to bring financial rigor to crucial "people" decisions associated with compensation and benefit program development. This comprehensive book begins by introducing a valuable Human Resource Life Cycle Model for considering compensation and benefit programs. Biswas thoroughly addresses the acquisition component of compensation, as well as issues related to general compensation, equity compensation, and pension accounting. He assesses the full financial impact of executive compensation programs and employee benefit plans, and discusses the unique issues associated with international HR systems and programs. This book contains a full chapter on HR key indicator reporting, and concludes with detailed coverage of trends in human resource accounting, and the deepening linkages between financial and HR planning. Replete with both full and "mini" case examples throughout, this book will be valuable to a wide spectrum of HR and financial professionals, with titles including compensation and benefits analysts, managers, directors, and consultants; HR specialists, accounting specialists, financial analysts, total rewards directors, controller, finance director, benefits actuaries, executive compensation consultants, corporate regulators, and labor attorneys. It also contains chapter-ending exercises and problems for use by students in HR and finance programs.
Table of Contents
Contents
Part 1
Chapter 1 Introduction: Setting the Stage 3
The Cost Versus Expense Conundrum 4
CAPEX Versus OPEX 7
The Current HR Cost-Classification Structure 8
The Current Accounting for Compensation and Benefit Cost Elements 12
Key Concepts in This Chapter 23
Appendix: The Terms 24
Chapter 2 Business, Financial, and Human Resource Planning 29
The Overall Planning Framework 30
HR Planning 34
HR Programs 43
Key Concepts in This Chapter 52
Appendix 53
Chapter 3 Projecting Base Compensation Costs 55
Base Salary Costs 58
Key Concepts in This Chapter 67
Appendix: Cash Flow Impact of Salary Increases 67
Chapter 4 Incentive Compensation 71
An Introduction to Incentive Compensation Programs 71
Accounting for Annual Cash Incentive Plans 74
Key Incentive Compensation Metrics 77
Free Cash Flow as an Incentive Plan Metric 81
Economic Value Added as an Incentive Plan Metric 82
Residual Income as an Incentive Compensation Plan Metric 86
The Balanced Scorecard and Incentive Compensation 87
Balanced Scorecard and Compensation 92
Key Concepts in This Chapter 94
Chapter 5 Share-Based Compensation Plans 95
Stock Award Plans 97
Stock Option Plans 100
Stock Option Expensing 103
The Accounting for Stock Options 106
Tax Implications of Stock Plans 112
International Tax Implications of Share-Based Employee Compensation Plans 116
Employee Share Purchase Plans 121
Stock Appreciation Rights 122
Key Concepts in This Chapter 126
Appendix: Stock Options and Earnings per Share 127
Chapter 6 International and Expatriate Compensation 131
The Background to International and Expatriate Compensation 132
The Balance Sheet System 136
Expatriate Taxes 143
The Cost-Differential Allowance 151
Global Payroll Systems 156
International Pensions 159
Global Stock Option Plans 161
Key Concepts in This Chapter 164
Chapter 7 Sales Compensation Accounting 165
General Accounting Practices 166
Sales Compensation Plans 168
Accounting Control and Audit Issues 175
Other Salient Elements of a Sales Compensation Plan 177
Travel Allowances 179
Commission Accounting 183
Key Concepts in This Chapter 185
Chapter 8 Employee Benefit Accounting 187
The Standards Framework 189
Defined Contribution Versus Defined Benefit Plans 190
Section 965 Explained 191
Calculating Plan Benefit Obligations 194
Claims Incurred but Not Reported (IBNR) 194
Other Benefit Obligations 196
Additional Obligations for Postretirement Health Plans 197
Self-Funding of Health Benefits 198
International Financial Reporting Standards and Employee Health and Welfare Plans 201
The Financial Reporting of Employee Benefit Plans 202
Key Concepts in This Chapter 207
Chapter 9 Healthcare Benefits Cost Management 209
The Background 209
The Reasons for the Rising Costs 212
Cost Containment Alternatives 214
Forecasting Healthcare Benefit Costs 228
Key Concepts in This Chapter 230
Chapter 10 The Accounting and Financing of Retirement Plans 231
The Background 232
The Accounting of the Plans 235
The Pension Benefit Obligation 245
Pension Plan Assets 253
The Pension Expense 256
The Accounting Record-Keeping 262
Accounting Standards Affecting Pension Plans 265
Key Concepts in This Chapter 266
Part 2
Chapter 11 Human Resource Analytics 271
The Background for the Use of HR Analytics 272
The Need for HR Analytics 273
Measuring the Effectiveness of HR Investments 274
Total Compensation Effectiveness Metrics 280
A Changed Paradigm 284
Key Concepts in This Chapter 285
Chapter 12 Human Resource Accounting 287
The Background 287
The Debate 289
HR Accounting Methods 291
Key Concepts in This Chapter 300
Appendix: No Long-Term Savings from Workforce Reductions 301
Conclusion 305
An HR Finance and Accounting Audit 306
References 309
Index 323
Purchase Info
ISBN-10: 0-13-306486-7
ISBN-13: 978-0-13-306486-5
Format: eBook (Watermarked)?
This eBook includes the following formats, accessible from your Account page after purchase:
EPUBThe open industry format known for its reflowable content and usability on supported mobile devices.
MOBIThe eBook format compatible with the Amazon Kindle and Amazon Kindle applications.
PDFThe popular standard, used most often with the free Adobe® Reader® software.
This eBook requires no passwords or activation to read. We customize your eBook by discreetly watermarking it with your name, making it uniquely yours.
Includes EPUB, MOBI, and PDF
$109.99
Add to Cart