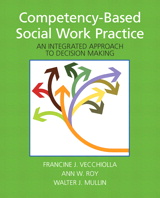 Description
A supplemental competency-based practice text for BSW and MSW programs.
Competency-Based Social Work Practice: An Integrated Approach to Decision Making captures how social workers actually practice with clients in their daily work, make case decisions using integrative competencies and EPAS, and reflects how social workers approach decision making.
A better teaching and learning experience
This program will provide a better teaching and learning experience--for you and your students. Here's how:
Personalize Learning —MySearchLab delivers proven results in helping students succeed, provides engaging experiences that personalize learning, and comes from a trusted partner with educational expertise and a deep commitment to helping students and instructors achieve their goals.
Improve Critical Thinking — Students arechallenged to examine their own values, increase their self-awareness, and put into practice the concepts discussed.
Engage Students — Uses cases based on real life experience from former MSW students.
Explore Current Issues — Uses contemporary case illustrations from a broad range of practice settings and client populations.
Apply CSWE Core Competencies - The textis centered around the 2008 CSWE EPAS, by demonstrating the integration of competencies through the decision making process in social work practice.
Support Instructors — An Instructor's Manual and Test Bank, MySearchLab, and PowerPoint presentations are included in the outstanding supplements package.
Table of Contents
IN THIS SECTION:

1.) BRIEF TABLE OF CONTENTS
2.) FULL TABLE OF CONTENTS

BRIEF TABLE OF CONTENTS:
Part One: An Introduction to Competency Based Social Work
Chapter 1: Competency Based Social Work
Chapter 2: Evaluating Practice
Part Two: Field Education: A Signature Pedagogy In Social Work Education
Chapter 3: Using Process Recording With a Suicidal Client
Chapter 4: Enhancing Skills in Child Welfare Practice through Supervision
Part Three: Case Decision Making: Integrating Competencies
Chapter 5: Working With an Urban Child at an Inner-City Community Center
Chapter 6: Accessing Social Services for a Woman with Severe and Persistent Mental Illness
Chapter 7: Winning an HMO Appeal for a Transplant Patient
Chapter 8: Helping an Incarcerated Survivor of Domestic Violence
Chapter 9: Intervening With a Self-Harming Adolescent in a School
Chapter 10: Working With an Older Adult in Hospice
---
COMPREHENSIVE TABLE OF CONTENTS:
PART ONE: AN INTRODUCTION TO COMPETENCY BASED SOCIAL WORK
Chapter 1: Competency Based Social Work
What is Competency-Based Social work Practice?
About this Text
Case Decision Making
Social Worker Reflections on Case Decisions
Integrative Competencies
Social Work Education Moves to Competency-Based Practice
Linking Case Decisions, Reflections, Integrative Competencies and EPAS: Eight Case Illustrations.
References
Chapter 2: Evaluating Practice
Literature Review
The Case of John: Applying Single System Design to Assess the Efficacy of an Art Therapy Intervention.
Methodology
Findings
Discussion
References
PART TWO: FIELD EDUCATION: A SIGNATURE PEDAGOGY IN SOCIAL WORK EDUCATION
Chapter 3: Using Process Recording With a Suicidal Client
Process Recording: A Tool for Building Competencies
The Case of Hanna: From the Perspective of a Graduate Social Work Student
The Process Recording
How Process Recording Assisted in Skill Development and its Connection to Integrative Competencies.
Conclusion
References
Chapter 4: Enhancing Skills in Child Welfare Practice through Supervision
The Andrews Case: Presented From the Perspective of the Supervisor
Case Decisions
How Integrative Competencies Guide Decision Making
Fluidity of Integrative Competencies: From the Perspective of the Supervisor
Conclusion
References
PART THREE: CASE DECISION MAKING: INTEGRATING COMPETENCIES
Chapter 5: Working With an Urban Child at an Inner-City Community Center
The Case of Josh: From the Perspective of a Graduate Social Work Student
Case Decisions
How Integrative Competencies Guide Decision Making
Conclusion
References
Chapter 6: Accessing Social Services for a Woman with Severe and Persistent Mental Illness
The Case of Ellen: From the Perspective of a Social Worker in a Community Social Service Agency
Case Decisions
How Integrative Competencies Guide Decision Making
Summary
References
Chapter 7: Winning an HMO Appeal for a Transplant Patient
The Trotter Case: Presented from the Perspective of a Social Worker in a Kidney Dialysis Center
Decisions
How Integrative Competencies Guide Decision Making
Summary
References
Chapter 8: Helping an Incarcerated Survivor of Domestic Violence
The Case of Amy: From the Perspective of a Social Worker
Case Decisions
Model of Growth and Recovery
How Integrative Competencies Guide Decision Making
Summary
References
Chapter 9: Intervening With a Self-Harming Adolescent in a School
The Case of Jennifer: From the perspective of a Graduate Social Work Student
Case Decision
How Integrative Competencies Guide Decision Making
Conclusion
References
Chapter 10: Working With an Older Adult in Hospice
The Case of Frederick India: From the Perspective of a Hospice Social Worker
Case Decisions
How Integrative Competencies Guide Decision Making
Summary
References