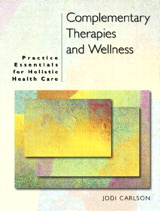 Table of Contents
I. ESSENTIALS.
1. Basic Concepts.
2. The Evolution of Complementary and Alternative Medicine in the United States: The Push and Pull of Holistic Health Care into the Medical Mainstream.
3. Legal Issues.
4. Utilization, Reimbursement, Legislative, Fraud and Abuse, and Documentation Issues.
5. Researching Alternative Therapies.
6. Creating an Integrative Clinic.
7. Developing Therapeutic Presence.
II. FOUNDATION PRINCIPLES.
8. Introduction to Asian Medical Systems.
9. Introduction to Energy Therapies.
10. Introduction to Manual and Body Based Approaches.
11. Introduction to Mind/Body Interventions.
12. Introduction to Health Promotion.
III. SPECIFIC THERAPIES.
13. Biofeedback.
14. Craniosacral Therapy.
15. The Feldenkrais Method™.
16. Myofascial Release.
17. Non-Contact Therapeutic Touch.
18. Reflexology.
19. Reiki.
20. Relaxation, Meditation, and Breath.
21. Shiatsu.
22. Structural Integration (Rolfing).
23. Tai Chi.
24. Yoga.
IV. WELLNESS AND SPECIAL APPLICATIONS.
25. Stress Management.
26. Pain Control.
27. Chronic HIV Disease.
28. Smoking Cessation.
APPENDICES.
1. NIH Definitions of CAM Therapies.
2. Other Therapies and Medicine Systems.
3. Answers to Study Questions.