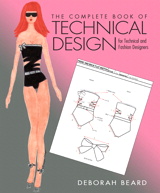 Description
A complete technical design resource for fashion students and professionals.
The Complete Book of Technical Design for Technical and Fashion Designers, 1/e is a complete learning resource for fashion technical designers, pattern makers, designers, and those in production. The first of its kind in the market, the text focuses on how technical design is practiced in the international fashion industry. Author Deborah Beard presents clear instruction with corresponding easy-to-follow technical illustrations, photos, technical packets, and grade forms.
This is the stand alone version of the text. A package containing both the text and DVD can be purchased using ISBN: 0133513076.
The DVD can be purchased stand alone using ISBN: 0132792109.
Table of Contents
Chapter 1: Introduction to Fashion and Technical Design Development
Chapter 2: Technical Design Terminology and Uses
Chapter 3: All About Stitching
Chapter 4: All About Garment Details
Chapter 5: All About Trim Details
Chapter 6: How to Measure Guide
Chapter 7: The Complete Technical Design Packet
Chapter 8: How to Fit and Correct Woven Garments
Chapter 9: How to Fit and Correct Stretch Garments
Chapter 10: The Complete Grading Guide
Chapter 11: Overseas Communication on Fit and Construction
Chapter 12: Production and Technical Design
Chapter 13: 3D Computer Fit and Design: Newest Innovation in Technical Design
Chapter 14: Blank Technical Packet and Grade Sheets
Enhance your learning experience with text-specific study materials.