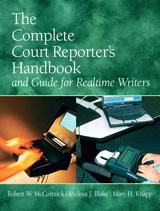 Description
For undergraduate courses in Court Reporting Procedures, Captioning Procedures, and CART Procedures, as well as Law School courses including interaction with Court Reporters.
This real-world guide covers all aspects of court reporting–from official court reporting to captioning to CART. Divided in nine easy-to-follow sections, it addresses the many facets of courtroom reporting and is packed with general forms, sample tests, and review questions. Each chapter shows where the NCRA standards are addressed–making it a credible source for techniques and content. This edition includes unique coverage of entrepreneurship, an updated CART section, updated technology information, and a section showing why the skill of reporting can lead to many different career opportunities.
Table of Contents
Table of Contents
SECTION A: GENERAL INFORMATION FOR ANYONE INTERESTED IN COURT AND REALTIME REPORTING
1. Considering Reporting as a Career
2. A Self-Test to Determine Your Interest in Reporting
3. The Reporting Profession Defined
SECTION B: OFFICIAL COURT REPORTING
4. The Working Environment of the Official Court Reporter
5. Terminology of the Official Court Reporter
6. A Typical Criminal Jury Trial
7. A Typical Civil Jury Trial
8. Things to Consider before a Trial Begins
9. How to Administer the Oath, Witness Setup, and Speaker and Examination Identification
10. How to Report Parentheticals
11. How to Report Motions
12. How to Report Objections
13. How to Mark Exhibits
14. How to Read Back and Testify
15. How to Produce the Transcript
16. How to Invoice and Deliver the Transcript
17. How a Trial Transcript Looks
SECTION C: FREELANCE REPORTING
18. The Working Environment of the Freelance Reporter
19. Terminology of the Freelance Reporter
20. Reporting a Typical Deposition: General Information
21. Deposition Reporting: Things to Consider
22. The Deposition Transcript: Transcribing, Invoicing, and Delivery
23. How the Deposition Transcript Looks
SECTION D: CAPTIONING
24. The Working Environment of the Captioner
25. Terminology and Legislation
26. A Day in the Life of a Captioning Reporter
SECTION E: COMMUNICATION ACCESS REALTIME TRANSLATION
27. What is CART?
28. The Terminology of the CART Provider
29. CART–Up Close and Personal
SECTION F: HELPFUL INFORMATION FOR THE REPORTING PROFESSION
30. Ethics of the Reporting Profession
31. Professionalism, Associations, Testing, and Continuing Education
32. Research for the Record, Internet Research, Citations of Authority
33. Finding Employment
34. The Office Environment
35. The Court System in America
SECTION G: THE TECHNOLOGY OF THE REPORTER
36. Hardware and Software Considerations, CAT, and Litigation Support
37. The Technology of Transcript Production
38. Tomorrow's Technology: Computer Integrated Courtrooms and Beyond
SECTION H: ALTERNATIVE REPORTING CAREERS
39. Alternative Careers Using Reporting Skills
SECTION 1: ENTREPRENEURSHIP
40. Starting a Business