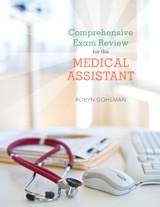 Description
For students completing accredited medical assisting and/or medical administrative curricula; and for healthcare professionals in review courses leading to recertification as a CMA (AAMA), RMA (AMT), or CMAS (AMT).
This is the clearest, most concise, most current review text for students preparing for the CMA, RMA, or CMAS exams, and for working medical assistants preparing to recertify. It covers exactly what students need to know for their exams, presents valuable study hints, and explains exactly what to expect on exam day. Designed for quick and easy use, it contains more tables and figures than any competitive title. It also contains nearly 800 practice questions presented in the format of the AAMA's and AMT's exams — including a complete 300-question "final exam." Rationales are provided for all correct answers, with links to relevant information throughout the book.
Table of Contents
Section 1: Medical Assisting Profession
1. Learning Styles, Study Skills and Test Taking Strategies
2. Medical Terminology
3. Basic Anatomy, Physiology and Pathophysiology
4. Basic Pathophysiology of the Body Systems and Diagnostic Procedures and Treatments
5. Basic Nutrition
Section 2: Interoffice Relations and Effective Therapeutic Communications
6. Verbal, Nonverbal and Written Communications
7. Human Relations
Section 3: Medical Laws, Legal Issues and Ethical Considerations
8. Medical Law and Ethical Considerations
9. HIPAA
Section 4: Administrative Competencies and Skills
10. Administrative Functions
11. Electronic Technology
12. Best Practice Finances
13. Managed Care and Insurance
14. Diagnostic and Procedural Coding
Section 5: Clinical Competencies and Skills
15. Blood-borne Pathogens and Infection Control
16. Patient Preparation and Education
17. Exam Room Equipment, Examinations and Procedures
18. Diagnostic Testing
19. Laboratory Procedures
20. Medication and Pharmacology
21. Safety and Emergency Practices
Purchase Info ?
With CourseSmart eTextbooks and eResources, you save up to 60% off the price of new print textbooks, and can switch between studying online or offline to suit your needs.
Once you have purchased your eTextbooks and added them to your CourseSmart bookshelf, you can access them anytime, anywhere.
Buy Access
Comprehensive Exam Review for the Medical Assistant, CourseSmart eTextbook
Format: Safari Book
$47.99 | ISBN-13: 978-0-13-506068-1