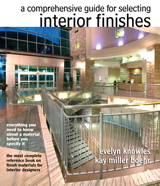 Description
For courses in Interior Design.
The designer's handbook to interior finishes.
A Comprehensive Guide for Selecting Interior Finishes, 1/e is a comprehensive look at common materials used in building construction and interiors. Students and accomplished designers will find it indispensable for researching and making finish material selections. Chapters explore the history and applications of finish materials in interior design and provide important technical reference for understanding building code and material installation and maintenance requirements. Numerous illustrations appeal to visual learners, while case studies in each chapter help readers make intelligent finish choices in a variety of realistic scenarios.
Table of Contents
Introduction
Chapter 1: Introduction to Selecting Finish Materials
Chapter 2: Metals
Chapter 3: Wood
Chapter 4: Stone
Chapter 5: Concrete
Chapter 6: Gypsum and Plaster
Chapter 7: Brick
Chapter 8: Ceramic
Chapter 9: Glass
Chapter 10: Paint and Coatings
Chapter 11: Plastics
Chapter 12: Fibers and Textiles
Purchase Info ?
With CourseSmart eTextbooks and eResources, you save up to 60% off the price of new print textbooks, and can switch between studying online or offline to suit your needs.
Once you have purchased your eTextbooks and added them to your CourseSmart bookshelf, you can access them anytime, anywhere.
Buy Access
Comprehensive Guide for Selecting Interior Finishes, The, CourseSmart eTextbook
Format: Safari Book
$39.99 | ISBN-13: 978-0-13-314215-0