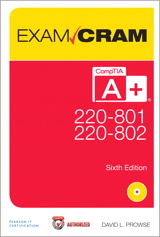 Description
Prepare for CompTIA A+ 220-801 and 220-802 exam success with this CompTIA Exam Cram from Pearson IT Certification, a leader in IT Certification learning and a CompTIA Approved Platinum Partner.
This is the eBook version of the print title. Note that the eBook does not provide access to the practice test software that accompanies the print book. Access to the digital edition of the Cram Sheet is available through product registration at Pearson IT Certification; or see instructions in back pages of your eBook.
Limited Time Offer: Buy CompTIA® A+ 220-801 and 220-802 Exam Cram and receive a 10% off discount code for the CompTIA A+ 220-801 and 220-802 exams. To receive your 10% off discount code visit your pearsonITcertification.com Account page, locate the product and click on "Access Bonus Content".
CompTIA® A+ 220-801 and 220-802 Exam Cram, Sixth Edition is the perfect study guide to help you pass CompTIA's A+ 220-801 and 220-802 exam. It provides coverage and practice questions for every exam topic, including substantial new coverage of Windows 7, new PC hardware, tablets, smartphones, and professional-level networking and security. The book presents you with an organized test preparation routine through the use of proven series elements and techniques. Exam topic lists make referencing easy. Exam Alerts, Sidebars, and Notes interspersed throughout the text keep you focused on what you need to know. Cram Quizzes help you assess your knowledge, and the Cram Sheet tear card is the perfect last minute review.
Covers the critical information you'll need to know to score higher on your CompTIA A+ 220-801 and 220-802 exams!
Deploy and administer desktops and notebooks running Windows 7, Vista, or XP

Understand, install, and troubleshoot motherboards, processors, and memory

Test and troubleshoot power-related problems

Use all forms of storage, including new Blu-ray and Solid State (SSD) devices

Work effectively with mobile devices, including tablets and smartphones

Install, configure, and troubleshoot both visible and internal laptop components

Configure Windows components and applications, use Windows administrative tools, and optimize Windows systems

Repair damaged Windows environments and boot errors

Work with audio and video subsystems, I/O devices, and the newest peripherals

Install and manage both local and network printers

Configure IPv4 and understand TCP/IP protocols and IPv6 changes

Install and configure SOHO wired/wireless networks and troubleshoot connectivity

Implement secure authentication, prevent malware attacks, and protect data
David L. Prowse is an author, computer network specialist, and technical trainer. Over the past several years he has authored several titles for Pearson Education, including the well-received CompTIA A+ Exam Cram and CompTIA Security+ Cert Guide. As a consultant, he installs and secures the latest in computer and networking technology. He runs the website www.davidlprowse.com, where he gladly answers questions from students and readers.
Table of Contents
Introduction. . . . . . . . . . . . . . . . . . . . . . . . . . . . . . . . . . . . . . . . . . . . . 1
Target Audience . . . . . . . . . . . . . . . . . . . . . . . . . . . . . . . . . . . . . . 1
About the CompTIA A+ 220-801 and 220-802 Exams. . . . . . . . . . . . . . 2
About This Book . . . . . . . . . . . . . . . . . . . . . . . . . . . . . . . . . . . . . . 2
Chapter Format and Conventions . . . . . . . . . . . . . . . . . . . . . . . 3
Additional Elements . . . . . . . . . . . . . . . . . . . . . . . . . . . . . . . . 3
The Hands-On Approach . . . . . . . . . . . . . . . . . . . . . . . . . . . . 4
Goals for This Book. . . . . . . . . . . . . . . . . . . . . . . . . . . . . . . . 5
Exam Topics . . . . . . . . . . . . . . . . . . . . . . . . . . . . . . . . . . . . . . . . . 6
CHAPTER 1: Introduction to Troubleshooting . . . . . . . . . . . . . . . . . . . . . . . . . . . . . . . 9
The Six-Step A+ Troubleshooting Process. . . . . . . . . . . . . . . . . . . . . 10
Step 1: Identify the Problem. . . . . . . . . . . . . . . . . . . . . . . . . . 10
Step 2: Establish a Theory of Probable Cause (Question the Obvious) . . . . . . . . . . . . . . . . . . . . . 11
Step 3: Test the Theory to Determine Cause . . . . . . . . . . . . . . . 12
Step 4: Establish a Plan of Action to Resolve the Problem and Implement the Solution. . . . . . . . . .. . . . . . 12
Step 5: Verify Full System Functionality and if Applicable Implement Preventative Measures . . . . .. . . . . 12
Step 6: Document Findings, Actions, and Outcomes . . . . . . . . . . 13
Cram Quiz Answers . . . . . . . . . . . . . . . . . . . . . . . . . . . . . . . 14
Troubleshooting Examples and PC Tools . . . . . . . . . . . . . . . . . . . . . 15
Troubleshooting Example 1: Display Issue. . . . . . . . . . . . . . . . . 15
Troubleshooting Example 2: Power Issue . . . . . . . . . . . . . . . . . 17
PC Tools . . . . . . . . . . . . . . . . . . . . . . . . . . . . . . . . . . . . . . 18
Some More Troubleshooting Tidbits . . . . . . . . . . . . . . . . . . . . 19
CHAPTER 2: Motherboards . . . . . . . . . . . . . . . . . . . . . . . . . . . . . . . . . . . . . . . . . . 23
Motherboard Components and Form Factors . . . . . . . . . . . . . . . . . . 24
Motherboard Components. . . . . . . . . . . . . . . . . . . . . . . . . . . 24
Form Factors. . . . . . . . . . . . . . . . . . . . . . . . . . . . . . . . . . . . 37
The BIOS . . . . . . . . . . . . . . . . . . . . . . . . . . . . . . . . . . . . . . . . . 42
BIOS, CMOS, and the Lithium Battery . . . . . . . . . . . . . . . . . . 42
The POST . . . . . . . . . . . . . . . . . . . . . . . . . . . . . . . . . . . . . 43
Accessing and Configuring the BIOS . . . . . . . . . . . . . . . . . . . . 43
Flashing the BIOS . . . . . . . . . . . . . . . . . . . . . . . . . . . . . . . . 46
Installing and Troubleshooting Motherboards . . . . . . . . . . . . . . . . . . 50
Installing Motherboards . . . . . . . . . . . . . . . . . . . . . . . . . . . . 50
Troubleshooting Motherboards. . . . . . . . . . . . . . . . . . . . . . . . 51
CHAPTER 3: The CPU . . . . . . . . . . . . . . . . . . . . . . . . . . . . . . . . . . . . . . . . . . . . . . 57
CPU 101 . . . . . . . . . . . . . . . . . . . . . . . . . . . . . . . . . . . . . . . . . . 58
CPU Technology . . . . . . . . . . . . . . . . . . . . . . . . . . . . . . . . . 58
Cooling . . . . . . . . . . . . . . . . . . . . . . . . . . . . . . . . . . . . . . . 67
Installing and Troubleshooting CPUs. . . . . . . . . . . . . . . . . . . . . . . . 73
Installing CPUs . . . . . . . . . . . . . . . . . . . . . . . . . . . . . . . . . . 73
Troubleshooting CPUs . . . . . . . . . . . . . . . . . . . . . . . . . . . . . 79
CHAPTER 4: RAM . . . . . . . . . . . . . . . . . . . . . . . . . . . . . . . . . . . . . . . . . . . . . . . . . 83
RAM Basics and Types of RAM . . . . . . . . . . . . . . . . . . . . . . . . . . . 84
RAM Basics . . . . . . . . . . . . . . . . . . . . . . . . . . . . . . . . . . . . 84
Types of RAM . . . . . . . . . . . . . . . . . . . . . . . . . . . . . . . . . . . 85
RAM Technologies. . . . . . . . . . . . . . . . . . . . . . . . . . . . . . . . 93
Installing and Troubleshooting DRAM . . . . . . . . . . . . . . . . . . . . . . 100
Installing DRAM . . . . . . . . . . . . . . . . . . . . . . . . . . . . . . . . 100
Troubleshooting DRAM . . . . . . . . . . . . . . . . . . . . . . . . . . . 104
CHAPTER 5: Power . . . . . . . . . . . . . . . . . . . . . . . . . . . . . . . . . . . . . . . . . . . . . . . 111
Understanding and Testing Power . . . . . . . . . . . . . . . . . . . . . . . . . 112
Testing an AC Outlet with a Receptacle Tester . . . . . . . . . . . . . 113
Testing an AC Outlet with a Multimeter . . . . . . . . . . . . . . . . . 114
Power Devices . . . . . . . . . . . . . . . . . . . . . . . . . . . . . . . . . . . . . . 117
Power Strips . . . . . . . . . . . . . . . . . . . . . . . . . . . . . . . . . . . 117
Surge Protectors. . . . . . . . . . . . . . . . . . . . . . . . . . . . . . . . . 118
Uninterruptible Power Supplies. . . . . . . . . . . . . . . . . . . . . . . 119
Power Supplies . . . . . . . . . . . . . . . . . . . . . . . . . . . . . . . . . . . . . 123
Planning Which Power Supply to Use . . . . . . . . . . . . . . . . . . 123
Installing the Power Supply . . . . . . . . . . . . . . . . . . . . . . . . . 130
Troubleshooting Power Supply Issues . . . . . . . . . . . . . . . . . . . 132
Heating and Cooling. . . . . . . . . . . . . . . . . . . . . . . . . . . . . . 136
CHAPTER 6: Storage Devices . . . . . . . . . . . . . . . . . . . . . . . . . . . . . . . . . . . . . . . . 141
Magnetic Storage Media . . . . . . . . . . . . . . . . . . . . . . . . . . . . . . . 142
Hard Disk Drives . . . . . . . . . . . . . . . . . . . . . . . . . . . . . . . . 142
Floppy Disk Drives . . . . . . . . . . . . . . . . . . . . . . . . . . . . . . . 154
Tape Drives. . . . . . . . . . . . . . . . . . . . . . . . . . . . . . . . . . . . 155
Optical Storage Media. . . . . . . . . . . . . . . . . . . . . . . . . . . . . . . . . 161
Compact Disc (CD) . . . . . . . . . . . . . . . . . . . . . . . . . . . . . . 161
Digital Versatile Disc (DVD) . . . . . . . . . . . . . . . . . . . . . . . . 163
Blu-ray . . . . . . . . . . . . . . . . . . . . . . . . . . . . . . . . . . . . . . . 165
Solid-State Storage Media . . . . . . . . . . . . . . . . . . . . . . . . . . . . . . 169
Solid-State Drives. . . . . . . . . . . . . . . . . . . . . . . . . . . . . . . . 169
USB Flash Drives . . . . . . . . . . . . . . . . . . . . . . . . . . . . . . . . 170
Secure Digital Cards . . . . . . . . . . . . . . . . . . . . . . . . . . . . . . 173
CompactFlash Cards . . . . . . . . . . . . . . . . . . . . . . . . . . . . . . 175
CHAPTER 7: Laptops . . . . . . . . . . . . . . . . . . . . . . . . . . . . . . . . . . . . . . . . . . . . . . 179
Installing, Configuring, and Troubleshooting Visible Laptop Components . . . . . . . . . . 180
Laptop 101 . . . . . . . . . . . . . . . . . . . . . . . . . . . . . . . . . . . . 180
Input Devices . . . . . . . . . . . . . . . . . . . . . . . . . . . . . . . . . . 182
Video . . . . . . . . . . . . . . . . . . . . . . . . . . . . . . . . . . . . . . . . 187
Audio. . . . . . . . . . . . . . . . . . . . . . . . . . . . . . . . . . . . . . . . 191
Optical Discs . . . . . . . . . . . . . . . . . . . . . . . . . . . . . . . . . . . 192
Fans. . . . . . . . . . . . . . . . . . . . . . . . . . . . . . . . . . . . . . . . . 192
Power . . . . . . . . . . . . . . . . . . . . . . . . . . . . . . . . . . . . . . . 193
Expansion Devices . . . . . . . . . . . . . . . . . . . . . . . . . . . . . . . 196
Communications . . . . . . . . . . . . . . . . . . . . . . . . . . . . . . . . 199
Installing, Configuring, and Troubleshooting Internal Laptop Components . . . . . . . 205
Hard Drives . . . . . . . . . . . . . . . . . . . . . . . . . . . . . . . . . . . 205
Memory . . . . . . . . . . . . . . . . . . . . . . . . . . . . . . . . . . . . . . 207
System Board and CPU . . . . . . . . . . . . . . . . . . . . . . . . . . . . 209
CHAPTER 8: Installing and Upgrading Windows . . . . . . . . . . . . . . . 213
Installing and Upgrading to Windows 7 . . . . . . . . . . . . . . . . . . . . . 214
Windows 7 Versions . . . . . . . . . . . . . . . . . . . . . . . . . . . . . . 214
Windows 7 Minimum Requirements and Compatibility . . . . . . . 215
Windows 7 Installation Methods . . . . . . . . . . . . . . . . . . . . . . 216
Installing Windows 7. . . . . . . . . . . . . . . . . . . . . . . . . . . . . . 219
Upgrading to Windows 7 . . . . . . . . . . . . . . . . . . . . . . . . . . . 221
Verifying and Troubleshooting Windows 7 Installations . . . . . . . 223
Installing and Upgrading to Windows Vista . . . . . . . . . . . . . . . . . . . 229
Windows Vista Versions. . . . . . . . . . . . . . . . . . . . . . . . . . . . 229
Windows Vista Minimum Requirements and Compatibility. . . . . 230
Windows Vista Installation Methods. . . . . . . . . . . . . . . . . . . . 231
Upgrading to Windows Vista . . . . . . . . . . . . . . . . . . . . . . . . 231
Verifying and Troubleshooting Windows Vista Installations . . . . 231
Installing and Upgrading to Windows XP . . . . . . . . . . . . . . . . . . . . 236
Windows XP Versions . . . . . . . . . . . . . . . . . . . . . . . . . . . . . 236
Windows XP Minimum Requirements and Compatibility. . . . . . 237
Verifying and Troubleshooting Windows XP Installations. . . . . . 238
CHAPTER 9: Configuring Windows . . . . . . . . . . . . . . . . . . . . . 241
Windows User Interfaces . . . . . . . . . . . . . . . . . . . . . . . . . . . . . . . 242
Windows Components . . . . . . . . . . . . . . . . . . . . . . . . . . . . 242
Windows Applications . . . . . . . . . . . . . . . . . . . . . . . . . . . . . 247
Administrative Tools and the MMC . . . . . . . . . . . . . . . . . . . . 252
System Tools and Utilities . . . . . . . . . . . . . . . . . . . . . . . . . . . . . . 257
Managing Devices . . . . . . . . . . . . . . . . . . . . . . . . . . . . . . . 257
Operating System Optimization. . . . . . . . . . . . . . . . . . . . . . . 261
User Migrations and Customizations . . . . . . . . . . . . . . . . . . . 269
Advanced System Tools . . . . . . . . . . . . . . . . . . . . . . . . . . . . 272
Files, File Systems, and Disks . . . . . . . . . . . . . . . . . . . . . . . . . . . . 283
Working with Files and File Systems . . . . . . . . . . . . . . . . . . . 283
Managing Disks . . . . . . . . . . . . . . . . . . . . . . . . . . . . . . . . . 289
CHAPTER 10: Maintaining Windows . . . . . . . . . . . . . . . . . . . . . . . 299
Updating Windows. . . . . . . . . . . . . . . . . . . . . . . . . . . . . . . . . . . 300
Service Packs . . . . . . . . . . . . . . . . . . . . . . . . . . . . . . . . . . . 300
Windows Update . . . . . . . . . . . . . . . . . . . . . . . . . . . . . . . . 302
Maintaining Hard Disks. . . . . . . . . . . . . . . . . . . . . . . . . . . . . . . . 305
Hard Disk Utilities . . . . . . . . . . . . . . . . . . . . . . . . . . . . . . . 305
Backups . . . . . . . . . . . . . . . . . . . . . . . . . . . . . . . . . . . . . . 308
Using Windows XP's NTBackup . . . . . . . . . . . . . . . . . . . . . . 310
Creating Restore Points. . . . . . . . . . . . . . . . . . . . . . . . . . . . 310
Shadow Copy . . . . . . . . . . . . . . . . . . . . . . . . . . . . . . . . . . 312
CHAPTER 11: Troubleshooting Windows . . . . . . . . . . . . . . . . . . . . . 317
Repair Environments and Boot Errors . . . . . . . . . . . . . . . . . . . . . . 318
Windows Repair Tools. . . . . . . . . . . . . . . . . . . . . . . . . . . . . 318
Boot Errors . . . . . . . . . . . . . . . . . . . . . . . . . . . . . . . . . . . . 324
Windows Tools and Errors. . . . . . . . . . . . . . . . . . . . . . . . . . . . . . 328
Troubleshooting Within Windows . . . . . . . . . . . . . . . . . . . . . 328
Stop Errors . . . . . . . . . . . . . . . . . . . . . . . . . . . . . . . . . . . . 337
Improper and Spontaneous Shutdowns . . . . . . . . . . . . . . . . . . 339
Additional Windows Errors and Error Reporting . . . . . . . . . . . 340
Restoring Windows. . . . . . . . . . . . . . . . . . . . . . . . . . . . . . . 342
Command-Line Tools . . . . . . . . . . . . . . . . . . . . . . . . . . . . . . . . . 345
Windows Command Prompt . . . . . . . . . . . . . . . . . . . . . . . . 345
Recovery Command Prompt. . . . . . . . . . . . . . . . . . . . . . . . . 349
CHAPTER 12: Video and Audio . . . . . . . . . . . . . . . . . . . . . . . . . . . . . . 355
The Video Subsystem . . . . . . . . . . . . . . . . . . . . . . . . . . . . . . . . . 356
Video Cards . . . . . . . . . . . . . . . . . . . . . . . . . . . . . . . . . . . 356
Video Displays . . . . . . . . . . . . . . . . . . . . . . . . . . . . . . . . . . 365
Video Settings and Software . . . . . . . . . . . . . . . . . . . . . . . . . 368
The Audio Subsystem . . . . . . . . . . . . . . . . . . . . . . . . . . . . . . . . . 380
Sound Cards . . . . . . . . . . . . . . . . . . . . . . . . . . . . . . . . . . . 380
Installing a Sound Card and Speakers . . . . . . . . . . . . . . . . . . . 382
Audio Quality . . . . . . . . . . . . . . . . . . . . . . . . . . . . . . . . . . 384
CHAPTER 13: Peripherals and Custom Computing . . . . . . . . . . . . . . 387
Input/Output, Input Devices, and Peripherals . . . . . . . . . . . . . . . . . 388
I/O Ports . . . . . . . . . . . . . . . . . . . . . . . . . . . . . . . . . . . . . 388
Input Devices and Peripherals . . . . . . . . . . . . . . . . . . . . . . . . 393
Custom PC Configurations . . . . . . . . . . . . . . . . . . . . . . . . . . . . . 399
Audio/Video Editing Workstation . . . . . . . . . . . . . . . . . . . . . 399
CAD/CAM Workstation . . . . . . . . . . . . . . . . . . . . . . . . . . . 399
Virtualization Workstation . . . . . . . . . . . . . . . . . . . . . . . . . . 400
Thin and Thick Clients . . . . . . . . . . . . . . . . . . . . . . . . . . . . 402
Home Server PC . . . . . . . . . . . . . . . . . . . . . . . . . . . . . . . . 402
Home Theater PC (HTPC) . . . . . . . . . . . . . . . . . . . . . . . . . 403
Gaming PC. . . . . . . . . . . . . . . . . . . . . . . . . . . . . . . . . . . . 404
CHAPTER 14: Printers . . . . . . . . . . . . . . . . . . . . . . . . . . . . . . . . . 407
Printer Types and Technologies. . . . . . . . . . . . . . . . . . . . . . . . . . . 408
Types of Printers . . . . . . . . . . . . . . . . . . . . . . . . . . . . . . . . 408
Local Versus Network Printers . . . . . . . . . . . . . . . . . . . . . . . 413
Installing, Configuring, and Troubleshooting Printers . . . . . . . . . . . . 415
Printer Installation and Drivers . . . . . . . . . . . . . . . . . . . . . . . 415
Configuring Printers . . . . . . . . . . . . . . . . . . . . . . . . . . . . . . 416
Troubleshooting Printers . . . . . . . . . . . . . . . . . . . . . . . . . . . 422
CHAPTER 15: Networking . . . . . . . . . . . . . . . . . . . . . . . . . . . . . . 429
Types of Networks and Network Devices . . . . . . . . . . . . . . . . . . . . 430
Network Types. . . . . . . . . . . . . . . . . . . . . . . . . . . . . . . . . . 430
Network Devices . . . . . . . . . . . . . . . . . . . . . . . . . . . . . . . . 431
Network Topologies . . . . . . . . . . . . . . . . . . . . . . . . . . . . . . 434
Cables, Connectors, and Tools . . . . . . . . . . . . . . . . . . . . . . . . . . . 439
Cable Types and Connectors. . . . . . . . . . . . . . . . . . . . . . . . . 439
Cabling Tools . . . . . . . . . . . . . . . . . . . . . . . . . . . . . . . . . . 443
TCP/IP . . . . . . . . . . . . . . . . . . . . . . . . . . . . . . . . . . . . . . . . . . 447
Configuring IPv4 . . . . . . . . . . . . . . . . . . . . . . . . . . . . . . . . 447
IPv4 Classes . . . . . . . . . . . . . . . . . . . . . . . . . . . . . . . . . . . 450
Configuring IPv6 . . . . . . . . . . . . . . . . . . . . . . . . . . . . . . . . 452
TCP/IP Protocols and Their Ports . . . . . . . . . . . . . . . . . . . . 454
SOHO Windows Networking. . . . . . . . . . . . . . . . . . . . . . . . . . . . 462
Internet Services. . . . . . . . . . . . . . . . . . . . . . . . . . . . . . . . . 462
Router Setup and Wireless . . . . . . . . . . . . . . . . . . . . . . . . . . 466
Windows Configurations . . . . . . . . . . . . . . . . . . . . . . . . . . . 471
Troubleshooting Networks. . . . . . . . . . . . . . . . . . . . . . . . . . . . . . 484
Command-Line Interface Tools . . . . . . . . . . . . . . . . . . . . . . 484
Troubleshooting Common Symptoms. . . . . . . . . . . . . . . . . . . 490
CHAPTER 16: Security . . . . . . . . . . . . . . . . . . . . . . . . . . . . . . . . . . 497
Security Threats and Prevention . . . . . . . . . . . . . . . . . . . . . . . . . . 498
Malicious Software . . . . . . . . . . . . . . . . . . . . . . . . . . . . . . . 498
Preventing and Troubleshooting Malicious Software . . . . . . . . . 499
Unauthorized Access . . . . . . . . . . . . . . . . . . . . . . . . . . . . . . 506
Social Engineering . . . . . . . . . . . . . . . . . . . . . . . . . . . . . . . 509
Hard Drive Recycling and Disposal . . . . . . . . . . . . . . . . . . . . 510
Windows Security . . . . . . . . . . . . . . . . . . . . . . . . . . . . . . . . . . . 514
User Accounts . . . . . . . . . . . . . . . . . . . . . . . . . . . . . . . . . . 514
File Security . . . . . . . . . . . . . . . . . . . . . . . . . . . . . . . . . . . 520
Encryption . . . . . . . . . . . . . . . . . . . . . . . . . . . . . . . . . . . . 525
Windows Firewall. . . . . . . . . . . . . . . . . . . . . . . . . . . . . . . . 527
SOHO Security . . . . . . . . . . . . . . . . . . . . . . . . . . . . . . . . . . . . . 531
Changing Default Passwords. . . . . . . . . . . . . . . . . . . . . . . . . 531
Changing and Disabling the SSID . . . . . . . . . . . . . . . . . . . . . 531
Configuring Wireless Encryption. . . . . . . . . . . . . . . . . . . . . . 532
Enabling MAC Filtering . . . . . . . . . . . . . . . . . . . . . . . . . . . 534
Disabling WPS . . . . . . . . . . . . . . . . . . . . . . . . . . . . . . . . . 534
Assigning Static IP Addresses . . . . . . . . . . . . . . . . . . . . . . . . 535
Disabling Physical Ports. . . . . . . . . . . . . . . . . . . . . . . . . . . . 535
Final Word on SOHO Routers . . . . . . . . . . . . . . . . . . . . . . . 535
CHAPTER 17: Mobile Devices . . . . . . . . . . . . . . . . . . . . . . . . . . 539
Mobile Hardware and Operating Systems . . . . . . . . . . . . . . . . . . . . 540
Mobile Hardware Examples . . . . . . . . . . . . . . . . . . . . . . . . . 540
Hardware Differences Between Tablets and Laptops . . . . . . . . . 541
Mobile Operating Systems . . . . . . . . . . . . . . . . . . . . . . . . . . 542
Obtaining Applications . . . . . . . . . . . . . . . . . . . . . . . . . . . . 544
Screen Configurations . . . . . . . . . . . . . . . . . . . . . . . . . . . . . 545
GPS and Geotracking . . . . . . . . . . . . . . . . . . . . . . . . . . . . . 547
Mobile Networking and Synchronization . . . . . . . . . . . . . . . . . . . . 551
GSM Cellular Connectivity . . . . . . . . . . . . . . . . . . . . . . . . . 551
Wi-Fi Network Connectivity . . . . . . . . . . . . . . . . . . . . . . . . 552
Wi-Fi Troubleshooting . . . . . . . . . . . . . . . . . . . . . . . . . . . . 554
Bluetooth Configuration . . . . . . . . . . . . . . . . . . . . . . . . . . . 556
Bluetooth Troubleshooting. . . . . . . . . . . . . . . . . . . . . . . . . . 559
E-Mail Configurations. . . . . . . . . . . . . . . . . . . . . . . . . . . . . 559
Troubleshooting E-mail Connections . . . . . . . . . . . . . . . . . . . 562
Synchronizing an Android Device to a PC. . . . . . . . . . . . . . . . 562
Synchronizing an iPad2 to a PC . . . . . . . . . . . . . . . . . . . . . . 564
Synchronizing Other Devices . . . . . . . . . . . . . . . . . . . . . . . . 566
Mobile Security . . . . . . . . . . . . . . . . . . . . . . . . . . . . . . . . . . . . . 569
Stolen and Lost Devices. . . . . . . . . . . . . . . . . . . . . . . . . . . . 569
Compromised and Damaged Devices . . . . . . . . . . . . . . . . . . . 572
Stopping Applications . . . . . . . . . . . . . . . . . . . . . . . . . . . . . 575
Initiating Resets . . . . . . . . . . . . . . . . . . . . . . . . . . . . . . . . . 577
CHAPTER 18: Safety, Procedures, and Professionalism . . . . . . . . . . . . . . 581
Safety. . . . . . . . . . . . . . . . . . . . . . . . . . . . . . . . . . . . . . . . . . . . 582
Electrical Safety . . . . . . . . . . . . . . . . . . . . . . . . . . . . . . . . . 582
Electrical Fire Safety . . . . . . . . . . . . . . . . . . . . . . . . . . . . . . 583
ESD . . . . . . . . . . . . . . . . . . . . . . . . . . . . . . . . . . . . . . . . 584
Physical Safety . . . . . . . . . . . . . . . . . . . . . . . . . . . . . . . . . . 587
Procedures and Environmental Controls . . . . . . . . . . . . . . . . . . . . 590
Temperature, Humidity, and Air . . . . . . . . . . . . . . . . . . . . . . 590
EMI and RFI. . . . . . . . . . . . . . . . . . . . . . . . . . . . . . . . . . . 591
MSDS and Disposal . . . . . . . . . . . . . . . . . . . . . . . . . . . . . . 591
Incident Response and Documentation . . . . . . . . . . . . . . . . . . 593
Professionalism and Communication Skills . . . . . . . . . . . . . . . . . . . 596
CHAPTER 19: Taking the Real Exams. . . . . . . . . . . . . . . . . 601
Getting Ready and the Exam Preparation Checklist. . . . . . . . . . . . . . 602
Tips for Taking the Real Exam . . . . . . . . . . . . . . . . . . . . . . . . . . . 604
General Practices for Taking Exams . . . . . . . . . . . . . . . . . . . . 605
Smart Methods for Difficult Questions . . . . . . . . . . . . . . . . . . 607
Wrapping Up the Exam . . . . . . . . . . . . . . . . . . . . . . . . . . . . 608
Beyond the CompTIA A+ Certification. . . . . . . . . . . . . . . . . . . . . . 608
Practice Exam 1 . . . . . . . . . . . . . . . . . . . . . . . . . . . . . . . . . . . . . . . . 611
Answers at a Glance . . . . . . . . . . . . . . . . . . . . . . . . . . . . . . . . . . 630
Answers with Explanations . . . . . . . . . . . . . . . . . . . . . . . . . . . . . . 631
Practice Exam 2 . . . . . . . . . . . . . . . . . . . . . . . . . . . . . . . . . . . . . . . . 651
Answers at a Glance . . . . . . . . . . . . . . . . . . . . . . . . . . . . . . . . . . 672
Answers with Explanations . . . . . . . . . . . . . . . . . . . . . . . . . . . . . . 673
Index. . . . . . . . . . . . . . . . . . . . . . . . . . . . . . . . . . . . . . . . . . . . . . . . 697