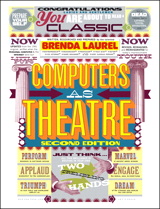 Description
Brenda Laurel's Computers as Theatre revolutionized the field of human-computer interaction, offering ideas that inspired generations of interface and interaction designers-and continue to inspire them. Laurel's insight was that effective interface design, like effective drama, must engage the user directly in an experience involving both thought and emotion. Her practical conclusion was that a user's enjoyment must be a paramount design consideration, and this demands a deep awareness of dramatic theory and technique, both ancient and modern.
Now, two decades later, Laurel has revised and revamped her influential work, reflecting back on enormous change and personal experience and forward toward emerging technologies and ideas that will transform human-computer interaction yet again. Beginning with a clear analysis of classical drama theory, Laurel explores new territory through the lens of dramatic structure and purpose. Computers as Theatre, Second Edition, is directed to a far wider audience, is written more simply and elegantly, is packed with new examples, and is replete with exciting and important new ideas.
This book

Draws lessons from massively multiplayer online games and systems, social networks, and mobile devices with embedded sensors

Integrates values-driven design as a key principle

Integrates key ideas about virtual reality

Covers new frontiers, including augmented reality, distributed and participatory sensing, interactive public installations and venues, and design for emergence
Once more, Brenda Laurel will help you see the connection between humans and computers as you never have before-and help you build interfaces and interactions that are pleasurably, joyously right!
Table of Contents
Foreword xi
Preface xvii
Acknowledgments xix
About the Author xxiii
Chapter 1: The Nature of the Beast 1
The Interface 2
Throw the Baggage Out 16
Theatre: More than an Interface Metaphor 28
Chapter 2: Dramatic Foundations–Part I: Elements of Qualitative Structure 41
Hoary Poetics 41
The Four Causes, or Why Things Are the Way They Are 49
The Six Elements and Causal Relations among Them 57
Chapter 3: Dramatic Foundations—Part II: Orchestrating Action 79
Whole Actions 79
Dramatic Potential: The "Flying Wedge" 82
Dramatic Anatomy 95
Chapter 4: Dramatic Interactors: Collaboration, Constraints, and Engagement 109
Human-Computer Interaction as Mediated Collaboration 110
Constraints 128
Engagement: The First-Person Imperative 139
Chapter 5: Design Heuristics 149
Computer as Medium 149
Interface Metaphors: Powers and Limitations 151
The Primacy of Action 156
Designing Character and Thought 163
Understanding Audiences 170
Chapter 6: New Terrain in Interaction Design 177
Methods and Media 177
Extending the Geometry of Dramatic Interaction 199
Design for Emergence 207
Design for the Good 215
References 221
Index 231
Purchase Info
ISBN-10: 0-13-339084-5
ISBN-13: 978-0-13-339084-1
Format: eBook (Watermarked)?
This eBook includes the following formats, accessible from your Account page after purchase:
EPUBThe open industry format known for its reflowable content and usability on supported mobile devices.
MOBIThe eBook format compatible with the Amazon Kindle and Amazon Kindle applications.
PDFThe popular standard, used most often with the free Adobe® Reader® software.
This eBook requires no passwords or activation to read. We customize your eBook by discreetly watermarking it with your name, making it uniquely yours.
Includes EPUB, MOBI, and PDF
$23.99
Add to Cart