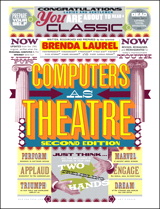 Description
Now, two decades later after the release of the first edition, Brenda Laurel has revised and revamped her classic Computers as Theatre, reflecting all that's happened, all she's learned, and emerging technologies that will transform human-computer interaction yet again. Beginning with a clear analysis of classical drama theory, Laurel explores new territory through the lens of dramatic structure and purpose. This new edition, directed to a far wider audience, is written more simply and elegantly, packed with new examples, and replete with exciting and important new ideas. It is utterly unique among books on interface/interaction design.
Table of Contents
Foreword xi
Preface xvii
Acknowledgments xix
About the Author xxiii
Chapter 1: The Nature of the Beast 1
The Interface 2
Throw the Baggage Out 16
Theatre: More than an Interface Metaphor 28
Chapter 2: Dramatic Foundations–Part I: Elements of Qualitative Structure 41
Hoary Poetics 41
The Four Causes, or Why Things Are the Way They Are 49
The Six Elements and Causal Relations among Them 57
Chapter 3: Dramatic Foundations—Part II: Orchestrating Action 79
Whole Actions 79
Dramatic Potential: The "Flying Wedge" 82
Dramatic Anatomy 95
Chapter 4: Dramatic Interactors: Collaboration, Constraints, and Engagement 109
Human-Computer Interaction as Mediated Collaboration 110
Constraints 128
Engagement: The First-Person Imperative 139
Chapter 5: Design Heuristics 149
Computer as Medium 149
Interface Metaphors: Powers and Limitations 151
The Primacy of Action 156
Designing Character and Thought 163
Understanding Audiences 170
Chapter 6: New Terrain in Interaction Design 177
Methods and Media 177
Extending the Geometry of Dramatic Interaction 199
Design for Emergence 207
Design for the Good 215
References 221
Index 231
Purchase Info ?
With CourseSmart eTextbooks and eResources, you save up to 60% off the price of new print textbooks, and can switch between studying online or offline to suit your needs.
Once you have purchased your eTextbooks and added them to your CourseSmart bookshelf, you can access them anytime, anywhere.
Buy Access
Computers as Theatre, CourseSmart eTextbook, 2nd Edition
Format: Safari Book
$14.99 | ISBN-13: 978-0-13-339089-6