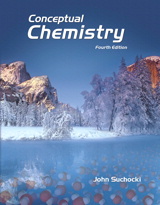 Description
A conversational and clear writing style has made John Suchocki's Conceptual Chemistry a leader in liberal arts chemistry. Presenting chemistry conceptually, Suchocki builds a base from which non-science students may view our world more perceptively, helping them visualize the behavior of atoms and molecules to understand our macroscopic environment.

Table of Contents
Chapter 1: About Science
Chapter 2: Particles of Matter
Chapter 3: Elements of Chemistry
Chapter 4: Subatomic Particles
Chapter 5: The Atomic Nucleus
Chapter 6: How Atoms Bond
Chapter 7: How Molecules Mix
Chapter 8: How Water Behaves
Chapter 9: How Chemicals React
Chapter 10: Acids and Bases in Our Environment
Chapter 11: Oxidations and Reductions Charge the World
Chapter 12: Organic Compounds
Chapter 13: The Nutrients of Life
Chapter 14: Medicinal Chemistry
Chapter 15: Optimizing Food Production
Chapter 16: Protecting Water and Air Resources
Chapter 17: Capturing Energy



Enhance your learning experience with text-specific study materials.
Purchase Info
ISBN-10: 0-13-605453-6
ISBN-13: 978-0-13-605453-5
Format: Alternate Binding
Digital Choices ?
MyLab & Mastering with Pearson eText is a complete digital substitute for a print value pack at a lower price.
MyLab & Mastering ?
MyLab & Mastering products deliver customizable content and highly personalized study paths, responsive learning tools, and real-time evaluation and diagnostics. MyLab & Mastering products help move students toward the moment that matters most—the moment of true understanding and learning.
+ Other Options