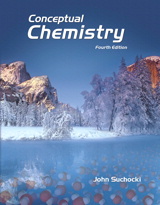 Description
A conversational and clear writing style has made John Suchocki's Conceptual Chemistry a leader in liberal arts chemistry. Presenting chemistry conceptually, Suchocki builds a base from which non-science students may view our world more perceptively, helping them visualize the behavior of atoms and molecules to understand our macroscopic environment.

Table of Contents
Chapter 1: About Science
Chapter 2: Particles of Matter
Chapter 3: Elements of Chemistry
Chapter 4: Subatomic Particles
Chapter 5: The Atomic Nucleus
Chapter 6: How Atoms Bond
Chapter 7: How Molecules Mix
Chapter 8: How Water Behaves
Chapter 9: How Chemicals React
Chapter 10: Acids and Bases in Our Environment
Chapter 11: Oxidations and Reductions Charge the World
Chapter 12: Organic Compounds
Chapter 13: The Nutrients of Life
Chapter 14: Medicinal Chemistry
Chapter 15: Optimizing Food Production
Chapter 16: Protecting Water and Air Resources
Chapter 17: Capturing Energy



Enhance your learning experience with text-specific study materials.
Purchase Info
ISBN-10: 0-13-605453-6
ISBN-13: 978-0-13-605453-5
Format: Alternate Binding
Digital Choices
MyLab & Mastering ?
MyLab & Mastering products deliver customizable content and highly personalized study paths, responsive learning tools, and real-time evaluation and diagnostics. MyLab & Mastering products help move students toward the moment that matters most—the moment of true understanding and learning.
eTextbook ?
With CourseSmart eTextbooks and eResources, you save up to 60% off the price of new print textbooks, and can switch between studying online or offline to suit your needs.
Once you have purchased your eTextbooks and added them to your CourseSmart bookshelf, you can access them anytime, anywhere.