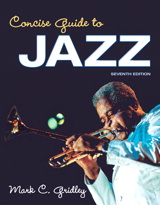 Description
An introduction to jazz and how to listen to it
Written by active jazz musician and jazz historian Mark Gridley, the Concise Guide to Jazz was created in response to students and professors asking for a clear and accurate introductory jazz text. This brief text examines how jazz originated, how it is made, what to listen for, and the major style eras. By focusing on just over fifty historical figures, Concise Guide to Jazz, seventh edition allows students to understand a broad range of jazz styles without feeling overloaded. Concise Guide to Jazz focuses on the diversity of jazz styles and serves as a basis for further jazz exploration.
This text is available in a variety of formats – digital and print. Pearson offers its titles on the devices students love through CourseSmart, Amazon, and more. To learn more about our programs, pricing options and customization, click the Choices tab.
Learning Goals
Upon completing this book, readers will be able to:
Begin to appreciate how jazz is made
Know how to extract the most depth of experience from listening to jazz
Know who the most historically significant jazz musicians are
Know why each significant musician is important
Distinguish the main style eras
*Music for your course is available through Spotify.
Table of Contents
Table of Contents
Chapter 1: What is Jazz?
Chapter 2: How to Listen to Jazz
Chapter 3: The Origins of Jazz
Chapter 4: Early Jazz
Chapter 5: Swing
Chapter 6: Bebop
Chapter 7: Cool Jazz
Chapter 8: Hard Bop
Chapter 9: Avant-Garde of the 1960s and 1970s
Chapter 10: Fusion
Chapter 11: 1985 to the Present
Enhance your learning experience with text-specific study materials.
This title is also sold in the various packages listed below. Before purchasing one of these packages, speak with your professor about which one will help you be successful in your course.
Package ISBN-13: 9780205959013
Includes this title packaged with:
Jazz Demonstration Disc for Jazz Styles: History and Analysis, 11th Edition
Mark C. Gridley
$129.97 $103.98 | Add to Cart
Package ISBN-13: 9780205959020
Includes this title packaged with:
Jazz Classics CDs for Concise Guide to Jazz, 7th Edition
Mark C. Gridley
$143.99 $115.19 | Add to Cart
Package ISBN-13: 9780205915873
Includes this title packaged with:
Jazz Classics CDs for Concise Guide to Jazz, 7th Edition
Mark C. Gridley
Prentice Hall Rock and Roll Collection, 2nd Edition
Hall Prentice
$150.65 $120.52 | Add to Cart