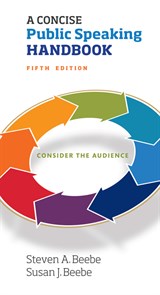 Description
For courses in Public Speaking
An audience-centered approach to public speaking in a concise reference format
A Concise Public Speaking Handbook emphasizes the importance of analyzing and considering the audience at every point in the speech-making process. Using a concise reference format that facilitates quick and easy access to key information, authors Steven and Susan Beebe present a balance of theory and practice to guide students on how to enhance their public speaking skills. By focusing student attention on the dynamics of diverse audiences, ethics, and communication apprehension, the text narrows the gap between the classroom and the real world. The Fifth Edition includes fresh examples throughout to ensure that content is relatable and engaging for students.
A Concise Public Speaking Handbook, Fifth Edition is also available via Revel™, an interactive learning environment that enables students to read, practice, and study in one continuous experience.
You can also purchase a loose-leaf print reference to complement Revel A Concise Public Speaking Handbook. This is optional.
Table of Contents
PART I: INTRODUCTION
1. Speaking in Public
2. Improving Your Confidence
3. Presenting Your First Speech
4. Ethics and Free Speech
PART II: ANALYZING AN AUDIENCE
5. Listening
6. Analyzing Your Audience
7. Adapting to Your Audience as You Speak
PART III: PREPARING A SPEECH
8. Developing Your Speech
9. Gathering Supporting Material
10. Supporting Your Speech
PART IV: CRAFTING A SPEECH
11. Organizing Your Speech
12. Outlining and Revising Your Speech
13. Developing an Introduction
14. Developing a Conclusion
15. Using Words Well
PART V: DELIVERING A SPEECH
16. Methods of Delivery
17. Nonverbal Communication
18. Verbal Communication
19. Delivering Your Speech
20. Selecting Presentation Aids
21. Preparing and Using Presentation Aids
PART VI: TYPES OF SPEECHES
22. Informative Speaking
23. Understanding Principles of Persuasive Speaking
24. Using Persuasive Strategies
25. Speaking on Special Occasions
26. Speaking in Small Groups
This title is also sold in the various packages listed below. Before purchasing one of these packages, speak with your professor about which one will help you be successful in your course.
Package ISBN-13: 9780134887746
Includes this title packaged with:
Revel for A Concise Public Speaking Handbook -- Access Card, 5th Edition
Steven A. Beebe, Susan J. Beebe
Pearson MediaShare -- Valuepack Access Card
Pearson Education, . . Pearson Education
$88.47 $84.05 | Add to Cart