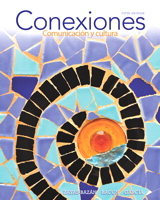 Description
Click. Play. Discover a Whole New World!
Conexiones: Comunicación y cultura, 5th Edition represents a fresh start for a program that has successfully taught thousands of students. Though the new 5th edition still retains what has always made Conexiones great, the new edition was rebuilt from the ground up thanks to feedback from instructors and students across the country. Through relevant and appealing topics, a true intermediate grammar sequence, and a focus on the dynamic cultures of the Spanish-speaking world, students will reach higher levels of proficiency and discover a whole new world with Conexiones: Comunicación y cultura, 5th Edition.
Teaching & Learning Experience
Improve Communication Skills While Engaging Students: Conexiones connects to the real world students live in and are exposed to in the media, as well as to the disciplines of study across campus. Until now, the disconnect between basic language study and advanced study has been abrupt and difficult to bridge for both the students and the instructors teaching the advanced courses. We've made it easier!

Achieve Consistent Learning Outcomes: Conexiones brings students to a true intermediate-level of proficiency through its carefully chosen scope and sequence and gives steudents the necessary foundation to succeed in higher-level classes.

Connect With Culture: WithConexiones, language and culture are inseparable; part of the same mosaic, each informing the other. Rich in cultural input throughout chapters, Conexiones also integrates music, art, and literature to expand upon chapter topics in the Comunicación y cultura sections. A brand-new video program captures the richness of the cultures of Spanish-speaking world.

Save Time Administering Your Course: MySpanishLab® offers the most powerful instructor tools available to help instructors efficiently manage their courses and stay connected with their students.
Note: MyLanguageLabs does not come automatically packaged with this text. To purchase MyLanguageLabs access, please visit: www.mylanguagelabs.com or you can purchase a valuepack of the text + MyLanguageLabs 24-month access (ISBN: 0205950353).
Table of Contents
Brief Contents
Preliminar - ¡Conectémonos!
1 - De moda
2 - Por un mundo más verde
3 - Por un mundo mejor
4 - Somos lo que somos
5 - ¡Luz, cámara, acción!
6 - Todos somos uno
7 - Cuerpo sano, mente sana
8 - Buscándonos la vida
9 - ¡A pasarlo bien!
10 - Mañana es hoy
Enhance your learning experience with text-specific study materials.
This title is also sold in the various packages listed below. Before purchasing one of these packages, speak with your professor about which one will help you be successful in your course.
Purchase Info
Digital Choices ?
MyLab & Mastering with Pearson eText is a complete digital substitute for a print value pack at a lower price.
MyLab & Mastering ?
MyLab & Mastering products deliver customizable content and highly personalized study paths, responsive learning tools, and real-time evaluation and diagnostics. MyLab & Mastering products help move students toward the moment that matters most—the moment of true understanding and learning.
eTextbook ?
With CourseSmart eTextbooks and eResources, you save up to 60% off the price of new print textbooks, and can switch between studying online or offline to suit your needs.
Once you have purchased your eTextbooks and added them to your CourseSmart bookshelf, you can access them anytime, anywhere.
Print Choices
Alternative Options ?
Click on the titles below to learn more about these options.