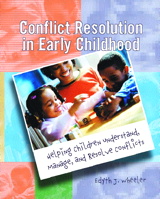 Table of Contents
ONE: CHILDREN'S CONFLICTS WITH PEERS: A FIRST LOOK.
1. An Introduction to Children's Conflicts with Peers.
2. Frameworks for Conflict Resolution: Responding to Issues of Violence, Peace Education, and Safe Environments.
TWO: PEER CONFLICT AND CHILDREN'S DEVELOPMENT.
3. Observing and Understanding Children's Peer Conflicts.
4. Characteristics of Young Children's Peer Culture.
5. Cognitive-Developmental, Sociomoral, and Sociocultural Perspectives.
6. Sociological, Sociolinguistic, and Social Learning Perspectives.
THREE: HELPING CHILDREN UNDERSTAND, MANAGE, AND RESOLVE CONFLICTS: "A THREE-LAYER CAKE."
7. Creating a Caring Classroom.
8. Curriculum for Caring and Conflict Resolution: Preschool and Kindergarten
9. Curriculum for Conflict Resolution: Primary Grades.
10. Adult Intervention in Young Children's Peer Conflicts.
FOUR: SUPPORTING CHILDREN'S CONFLICT RESOLUTION BEYOND THE CLASSROOM: UNDERSTANDING AND COLLABORATION IN FAMILY, SCHOOL, AND COMMUNITY.
11. Working with Families and Communities for Conflict Resolution.
12. Program Models for Conflict Resolution.
13. Reflection and Action: Conflict Resolution with Children and Adults.
Appendix A: Observation Tools: Play Scales.
Appendix B: Observation Forms and Resources.
Appendix C: Children's Books for Caring, Conflict Resolution, and Peace Building.
References.
Name Index.
Subject Index.