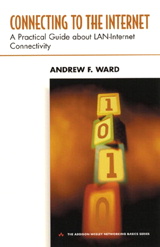 Table of Contents
Preface—Look before You Leap.
Audience.
Prerequisites.
Acknowledgments.
1. TCP/IP Internetworking and Internet Services.
Comparing TCP/IP to the OSI Reference Model.
Packet-Based Communication.
Media Access Control (MAC).
Frames.
Unicast, Broadcast, and Multicast Packets.
Communication in IP Networks.
Address Resolution Protocol (ARP).
Routing.
Route Advertisement and Learning.
Internet Control Message Protocol (ICMP).
Internet Services.
Emphasis on TCP and UDP.
TCP Connections.
UDP Data Streams.
Request for Comments (RFC).
Standard Internet Service Protocols.
Domain Name System (DNS).
File Transfer Protocol (FTP).
Mail.
News (NNTP).
Terminal Emulation (Telnet).
Web (HTTP).
Security/Encryption (SSL).
Non-TCP-Based and Non-UDP-Based Services.
IP Protocols.
IP in IP Encapsulation.
Generic Routing Encapsulation (GRE).
2. Selecting Your Internet Service Provider.
Chapter Overview.
Types of ISPs.
Network Service Providers.
Internet Service Providers (Resellers).
Which Type of ISP Is Right for You?
Basic Access Products.
Internet Services Provided.
Connection Capacity (Bandwidth).
Access Provisioning (WAN Circuits).
Equipment Selection and Provisioning.
Installation and Setup Services.
Domain Name Registration.
Mail Exchange (MX) Records.
Allocation of an IP Address Pool.
Activation Support (Installation).
Post-Sales Support.
Extended Services.
Web Hosting.
Security.
Virtual Private Networks.
Remote Access.
Faxing.
Multicasting and MBone.
News Feed.
Knowledge Services (Consulting).
Capacity Scaling and Oversubscription.
Network Infrastructure.
Pricing.
Fixed versus Usage-Based Pricing.
Obtaining Quotations.
Contract Terms.
Negotiating.
Checklist-Selecting the ISP.
3. Provisioning Your Wide Area Network.
Chapter Overview.
Circuit Capacity (Bandwidth).
DS-1 Circuits (E-1 and T-1).
Dual DS-1 Circuits.
DS-3 Circuits (T-3 and E-3).
Components of WAN Circuits.
Circuit Technologies.
Point-to-Point.
Frame Relay.
SMDS.
ISDN.
ADSL.
Delivering the Circuit.
Facilities.
Premise Demarcation.
Circuit Conditioning.
North American T-1.
European E-1.
North American T-3.
Premise Equipment Configuration and Connections.
CSU/DSUs.
T-1 Circuits.
E-1 Circuits.
T-3 Circuits.
ISDN Network Termination.
Checklist-WAN Provisioning.
4. Planning Your Security.
Chapter Overview.
The Real Need for Security.
World View, Default Stance, and Direction.
World View.
Default Stance.
Default Action.
Direction.
Access Control Technologies.
Packet Filtering.
Circuit Proxies.
Application Gateways.
Stateful Inspection.
Network Address Translation.
Firewall Products Explained.
Configuring.
Attack Screening.
Authentication.
Encryption and Virtual Private Networks.
Event Logging and Intrusion Notification.
Other Integrated Services.
Vendors.
Typical Policies.
Outbound Traffic.
Inbound Traffic.
Service-Specific Recommendations.
Problematical Services.
Security Auditing.
Need.
Software Tools.
Auditing Services.
Keeping Current.
Checklist-Security.
5. Designing Your Network Architecture.
Chapter Overview.
Delineate Your Service Objectives.
Services Accessed from the Internet.
Services Provided to the Internet.
Other Services.
Assess Your Design Factors.
Security.
Cost.
Select a Prototype Design.
Design 1-Single Filter for Screening Internal Hosts.
Design 2-Single Filter for Screening Servers.
Design 3-Single Filter with Screened Subnet.
Design 4-Dual Filter with Screened Subnet.
Determine Your IP Architecture.
IP Addressing.
IP Subnetting.
Configuring IP Routing (Tips and Traps).
Equipment Selection.
Routers.
WAN Interfaces for Routers.
Reiterating the Design Process.
Checklist-Network Architecture and Equipment Selection.
6. Staging and Testing Your Design.
Chapter Overview.
Assemble Your Tools.
Software Utilities.
Network Analyzer.
Routing Diagnostics.
Server Applications.
Client Applications.
Network Hardware.
Staging Equipment.
Test Your Routing.
Test Your Security (Filtering).
Test Mandatory Services.
Checklist-Staging and Testing.
7. Implementing and Validating Your New Connection.
Chapter Overview.
Complete the WAN Circuit.
Going Live with the ISP.
Deactivate Your Security.
Test WAN Connectivity.
Test Routing to the Internet.
Test Connectivity to DNS and Mail Servers.
Reactivate Security.
Troubleshooting the WAN.
Validating Operation and Security after Start-Up.
Checklist-Implementation and Validation.
8. Managing Your Connection.
Chapter Overview.
Evaluating New Services.
Checking for Security Breaches.
Usage Monitoring and Baselining.
Addressing Performance and Connectivity Issues.
Moving to a New ISP.
Your Internet Connection on Autopilot.
Appendix A: Network Address Translation.
Appendix B: Virtual Private Networks.
Appendix C: How the Internet Functions.
Backbone Construction.
Domain Name System.
The Internet Management and Services.
Obtaining IP Addresses and Domain Names.
Internet Problems.
Predicted Growth and Capacity Planning.
IP Address Depletion.
Appendix D: Dynamic Host Configuration Protocol.
Appendix E: Helpful Web Sites.
Firewall/Security Sites.
Freeware Sites.
Internet Administration Sites.
Internet Service Providers.
Bibliography.
Glossary.
Index. 0201379562T04062001