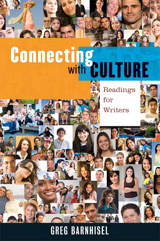 Description
The reader encourages the reader to read deeply and uncover connections writers make as they build texts, read critically to recognize connections across texts, and think analytically about connections between texts and larger issues in the culture. Instructional chapters and apparatus are designed to help develop these critical reading, critical thinking, and writing skills fundamental to success in their careers.
Table of Contents
Preface.
Ch. 1: What Does It Mean to "Read Critically"?
What's the Use of Critical Reading?
The First Step in Critical Reading: Knowing, Comprehending, and Recalling
"Gangsta Kobe," Scott Andrews
Questioning the Text
"Look, Over There. It's A Black Guy!" Kevin Chong
What's Your Point?
Reading as a Believer and Reading as a Doubter
"Terrorists in the Heartland? Chill," Steve Chapman
Thinking Critically About How Online Content is Presented
Putting it Together
Ch.2: What Does It Mean to "Write Critically?"
Writing that Goes Down Easy Isn't Always Good Writing
"In Today's Society"
Answering the Question
Making Sure You Have a Thesis
"Photoshopping Women Into Oblivion," Ellen Keim
Preferences and Opinions
Joining the Conversation
Refining Your Stance
Finding The Implicit Assumption
Using The Implicit Assumption
Incorporating Different Voices: Summary, Paraphrase, Quotation
Signal Words and Phrases
Summary, Paraphrase, Quotation
Crediting Sources
Joining Different Kinds of Conversations
The Academic Conversation
Taking the Academic Conversation Out of the Academy: A Case Study
"Climate Change and the Integrity of Science," letter to the editor of Science, 7 May 2010
Ch. 3: What Does It Mean to "Write Persuasively?"
What Does It Mean to "Write Persuasively"?
The Roots of Rhetoric: Ancient Athens
The Tools of Persuasion
Ethos: Why Should You Listen to Me?
Ethos In Your Own Writing
Pathos: Moving the Audience
Pathos In Your Own Writing
Finding Your Implicit Assumption
Using Your Implicit Assumption
Logos: The Logic of an Argument
"Rebuttal to Maggie Jackson's Distracted," Mike Wong
Ch. 4: Is There An Information Overload?
Introduction
Cluster One: What is the Net Doing to Us?
Carr, Nicholas. "Is Google Making Us Stupid?"
Manjoo, Farhad. "'Truthiness' Everywhere."
Willen, Matthew S. "Reflections on the Cultural Climate of Plagiarism."
Vaidhyanathan, Siva. "Generational Myth.
Smith, Zadie. "Generation Why?"
Photo from The Social Network
Cluster Two: How do we relate to our technology?
Jackson, Maggie. "Introduction" to Distracted.
Cell phone images (drawing and iPhone advertisement)
Mangu-Ward, Katherine. "Wikipedia and Beyond: Jimmy Wales' Sprawling Vision."
"Wikipedia: Facts you can trust!"
Sullivan, Andrew. "Why I Blog."
Coates, Ta-Nehisi. "Confessions of a 30-year-old Gamer."
Ch. 5: What Is An Education For?
Introduction
Cluster one: What's So Special About a Liberal Education?
Roth, Michael. "What's A Liberal-Arts Education Good For?"
Motifake poster. "Higher Education: Some Things Stand the Test of Time."
Nemko, Marty. "College Degree an Overrated Product."
Bruce Tinsley, "Mallard Fillmore"
Jacques Steinberg. "Plan B: Skip College."
David Foster Wallace. 2005 Commencement Address to Kenyon College.
Cluster two: How is education delivered?
Breen, Bill. "The Hard Life and Restless Mind of America's Education Billionaire."
photo of a University of Phoenix building
photo of Low Library of Columbia University.
Diane Ravitch, "Why I Changed My Mind on Charter Schools."
Liam Julian. "Come Study La Raza."
Ponte Al Dia. "H.B. 2281: The Unfinished 'Mexican-American War'."
Angela Yeager. "New Arizona Law Could Be Detrimental To Students."
Ch. 6: How Do We Work Today, and How Will We Work Tomorrow?
Introduction
Cluster one: What is the workplace, and how is it changing?
Alsop, Ron. "The 'Trophy Kids' Go To Work."
Rebecca Traister. "No More Vacation: How Technology is Stealing our Lives."
China Labor Watch. "A Foxconn Worker's Story."
Kristof, Nicholas. "Where Sweatshops are a Dream."
Matthew Crawford, "Shop Class as Soulcraft."
Thomas Schatz. "Workplace Programs."
Still photographs: CSI, ER, Newsradio, The Office
Cluster two: How is technology going to change the workplace for the millennial generation?
Wei Du. "Job Candidates Get Tripped Up By Facebook."
Howe, Jeff. "The Rise of Crowdsourcing."
Michael Corey. "I am a Digital Immigrant/I am a Digital Native."
Rainie, Lee. "Digital 'Natives' Invade the Workplace."
Shulman, Miriam. "LittleBrother is Watching You."
WorkExaminer.com. "Internet Usage Software."
Ch. 7: What Makes a Family?
Introduction
Cluster One: Same-Sex Marriage And "Real" American Values
National Organization for Marriage. "Why Marriage Matters."
Olsen, Ted. "The Conservative Case for Gay Marriage."
Roth, Steve. "Gay Wedding Bells Ring; So Do Cash Registers."
Judith "Jack" Halberstam, "The Kids Aren't Alright!"
Cluster Two: How Is the American Family Changing due to Economics, Immigration, and Social Factors?
Chen, Michelle. "Farewell, June Cleaver: 'Non-Traditional Families' and Economic Opportunity."
Klein, Herbert S. "The Changing American Family."
Sandler, Lauren. "The Only Child: Debunking the Myths."
Rauch, Jonathan. "One Man, Many Wives, Big Problems."
Villareal, Rosa Martha. "Illegitimate Mexican Family Values?"
Ch. 8: What Spaces Do You Inhabit?
Introduction
Cluster one: Private Rights and the Public Good in the Spaces We Inhabit
Simon, Bryant. "It Looks Like A Third Place."
Starbucks. "There's Work. There's Home. And there's Starbucks."
Alan A. Loomis. "The Once and Future Mall."
Robert Bruegmann. "In Defense of Sprawl."
Word Cloud representations of Loomis' and Bruemann's articles
Sierra Club. "Population Growth and Suburban Sprawl: A Complex Relationship" and "Global Warming: Sprawling Across the Nation."
National Center for Policy Analysis. "Protecting the Environment through the Ownership Society."
Cluster two: How Private is Your Online Space?
Emily Steel and Jessica E. Vascellaro. "Facebook, MySpace Confront Privacy Loophole."
Matthew Ingram. "The Relationship Between Facebook And Privacy: It's Really Complicated."
Helen Popkin. "Privacy is Dead on Facebook—Get Over It."
Matt Dodge and Dylan Martin, "Point—Counterpoint: Does Facebook Violate Your Privacy?"
Nitrozack and Snaggy. "Signs of the Social Networking Times."
Emily Gould. "Exposed."
Ch. 9: How True is Scientific Truth?
Introduction
Cluster one: When Is A Drug Not A Drug?
Trudeau, Kevin. "I Should Be Dead by Now."
Specter, Michael. "The Era of Echinacea,"
Jennifer Steinhauer, "Voodoo Priests, Botanicas, Herbs, and Amulets."
Sara Seifert, et al. "Health Effects of Energy Drinks on Children, Adolescents, and Young Adults."
Full Throttle billboard advertisement.
American Beverage Association. "American Beverage Association Statement on Pediatrics Article on Energy Drinks."
Cluster Two: How does science become truth?
Angier, Natalie. "My God Problem—and Theirs."
Ehrenreich, Barbara. Bright-Sided: How The Relentless Promotion of Positive Thinking Has Undermined America.
Toobin, Jeffrey. "The CSI Effect: The Truth About Forensic Science."
William A. Dembski. "Science and Design."
Ch. 10: Are We What We Eat?
Introduction
Cluster One: What are the ethics of eating?
Safire, William. "Our Language: Locavorism."
Center for Consumer Freedom. "No Cranberries in Texas? No Lobster in Colorado? Blame the 'Locavores.'"
Photo comparison: Family at farmer's market, Wal-Mart organic aisle
"Wal-Mart Commits to America's Farmers as Produce Aisles Go Local."
Gillham, Christina. "Swallowing the Eco-Hype."
Dubner, Stephen J. "Do We Really Need a Few Billion Locavores?"
Kaza, Stephanie. "Paying Attention to Food."
Photo comparison: PETA ad with Barbie Hsu, Hitler parody ad
Pollan, Michael. "Out of the Kitchen, Onto the Couch."
Cluster Two: Is There An Obesity 'Epidemic'?
Flegal, Graubard, et al. "Excess Deaths Associated with Underweight, Overweight, and Obesity."
CDC state-by-state obesity rate maps
Kate Dailey and Abby Ellin. "America's War on the Overweight."
Harding, Kate. "Fat Vs. Fiction."
Milloy, Stephen. "Obesity Obsession."
Credits.
Index.
Additional Course Materials