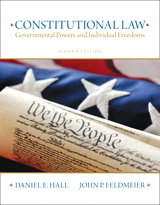 Description
CONSTITUTIONAL LAW: PRINCIPLES IN PRACTICE, 2/e offers comprehensive coverage of two traditional constitutional law subjects: governmental powers and civil liberties. It strives to balance historically significant cases with contemporary problems and includes excerpts of significant cases within the text. Written in a style designed for undergraduates, legal terms are defined in a running glossary and applications assignments appear at the end of each chapter. This edition includes new end-of-chapter exercises, expanded appendices, current case law and features that demonstrate how constitutional law occurs at all levels, branches and areas of the government–not just in the U.S. Supreme Court.
Table of Contents
PART I: GOVERNMENTAL POWERS
1. Constitutionalism and Rule of Law
2. Dividing Governmental Power
3. The Judiciary: Its role and Jurisdiction
4. Congress
5. The Presidency
6. Administrative Agencies in the Constitutional Scheme
7. Contemporary Federalism: The State and Federal Relationship
PART II: INDIVIDUAL LIBERTIES
8. The Bill of Rights
9. The Freedom of Expression
10. Religion and the Constitution
11. Substantive Due Process, Privacy, and Other Liberties
12. Equal Protection
13. Civil Liberties in the Criminal Justice System
APPENDIX A: CONSTITUTION OF THE UNITED STATES OF AMERICA
APPENDIX B: HOW TO BRIEF A CASE
APPENDIX C: HISTORY OF UNITED STATES JUSTICES BY SEAT
APPENDIX D: SELECTED EXECUTIVE ORDERS AND MEMORANDA
These online resources are available at no cost.
Companion Website for Constitutional Law: Governmental Powers and Individual Freedoms, 2nd Edition