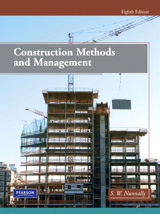 Description
For courses in Introduction to Construction, Construction Engineering I, Construction Management I, Building Construction.
Construction Methods and Management, Eighth Edition, is designed to guide construction engineers and managers in planning, estimating, and directing construction operations safely and effectively. Comprehensive and up-to-date, the text integrates major construction management topics with an explanation of the methods of heavy/highway and building construction. It incorporates both customary U.S. units and metric (SI) units and is the only text to present concrete formwork design equations and procedures using both measurement systems. This edition features information on the latest developments in soil excavation, asphalt paving, and earthmoving equipment.
Table of Contents
1. Introduction
PART ONE: EARTHMOVING AND HEAVY CONSTRUCTION
2. Earthmoving Materials and Operations
3. Excavating and Lifting
4. Loading and Hauling
5. Compacting and Finishing
6. Rock Excavation
7. Production of Aggregate, Concrete, and Asphalt Mixes
8. Paving and Surface Treatments
9. Compressed Air and Water Systems
PART TWO: BUILDING CONSTRUCTION
10. Foundations
11. Wood Construction
12. Concrete Construction
13. Concrete Form Design
14. Masonry Construction
15. Steel Construction
PART THREE: CONSTRUCTION MANAGEMENT
16. Planning and Scheduling
17. Construction Economics
18. Contract Construction
19. Construction Safety and Health and Equipment Maintenance
20. Improving Productivity and Performance
APPENDIX A: METRIC CONVERSION FACTORS
APPENDIX B: CONSTRUCTION INDUSTRY ORGANIZATIONS
APPENDIX C: CONSTRUCTION INTERNET SOURCES
Purchase Info ?
With CourseSmart eTextbooks and eResources, you save up to 60% off the price of new print textbooks, and can switch between studying online or offline to suit your needs.
Once you have purchased your eTextbooks and added them to your CourseSmart bookshelf, you can access them anytime, anywhere.
Buy Access
Construction Methods and Management, CourseSmart eTextbook, 8th Edition
Format: Safari Book
$64.99 | ISBN-13: 978-0-13-508955-2