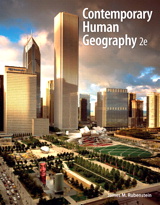 Description
Contemporary Human Geography is a beautifully crafted, modular springboard into essential human and cultural geography concepts, designed for the contemporary geography student. This brief, innovative text explores current human geography in the bold visual style that distinguishes Dorling Kindersley (DK) publications. Topics within each chapter are organized into modular, self-contained, two-page spreads. Together with the graphics, Rubenstein's efficient writing engages students, presenting information clearly without sacrificing the high-quality geography content essential to students and instructors.
Table of Contents
1. Thinking Geographically
2. Population
3. Migration
4. Folk and Popular Culture
5. Language
6. Religion
7. Ethnicity
8. Political Geography
9. Development
10. Food and Agriculture
11. Industry
12. Services and Settlements
13. Urban Patterns
14. Resources Issues


Enhance your learning experience with text-specific study materials.