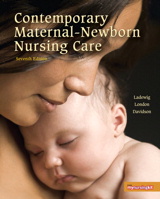 Description
Maternal-newborn nursing is multi-faceted, challenging and rewarding. It provides multiple opportunities to touch lives and make a difference. In the new edition, those facets and their impact on maternal-newborn nursing is evident, while emphasizing that family members are co-particpants in care. Because of the varied and rich opportunities for nurses, the theme emphasized in this edition are the many facets of maternal-newborn nursing. This thread is subtly woven throughout the book.
Table of Contents
Part 1 Introductory Concepts
1 Contemporary Maternal-Newborn Care
2 Culture and the Childbearing Family
3 Reproductive Anatomy and Physiology
4 Conception and Fetal Development
Part 2 Women's Health: The Reproductive Years
5 Health Promotion for Women
6 Common Gynecologic problems
7 Families with Special Reproductive Concerns
8 Preparation of Pregnancy
Part 3 Pregnancy and Family
9 Physical and Psychologic Changes of Pregnancy
10 Antepartal Nursing Assessment
11 The Expectant Family: Needs and Care
12 Maternal Nutrition
13 Adolescent Pregnancy
14 Assessment of Fetal Well-Being
15 Pregnancy at Risk: Pregestational Problems
16 Pregnancy at Risk: Gestational Onset
Part 4 Birth and the Family
17 Processes and Stages of Labor and Birth
18 Intrapartal Nursing Assessment
19 Family in Childbirth: Needs and Care
20 Pharmacologic Management of Pain
21 Childbirth at Risk: Prelabor Complications
22 Childbirth at Risk: Labor-Related Complications
23 Birth-Related Procedures
Part 5 The Newborn
24 The Physiologic Responses of the Newborn to Birth
25 Nursing Assessment of the Newborn
26 Normal Newborn: Needs and Care
27 Newborn Nutrition
28 The Newborn at Risk: Conditions Present at Birth
29 The Newborn at Risk: Birth Related Stressors
Part 6 Postpartum
30 Pospartal Adaptations and Nursing Assessment
31 The Postpartal Family: Needs and Care
32 Home Care of the Postpartal Family
33 The Postpartal Family at Risk
Purchase Info ?
With CourseSmart eTextbooks and eResources, you save up to 60% off the price of new print textbooks, and can switch between studying online or offline to suit your needs.
Once you have purchased your eTextbooks and added them to your CourseSmart bookshelf, you can access them anytime, anywhere.
Buy Access
Contemporary Maternal-Newborn Nursing, CourseSmart eTextbook, 7th Edition
Format: Safari Book
$45.99 | ISBN-13: 978-0-13-503995-3